The Lord Your God is with You! Isaiah 41:10
If the past months of uncertainty and turmoil have revealed anything, it is that fear is a real issue that touches everyone. The good news is that for those of us who love Jesus and embrace His finished work of salvation, God has an inescapable command filled with abundant promise: "Fear not, for I am with you; be not dismayed, for I am your God. I will strengthen you, yes, I will help you, I will uphold you with My righteous right hand" (Isaiah 41:10).
This is just one of the many scriptures throughout the Bible assuring us that as God's children, we have an inheritance that empowers us to stand confidently and declare with David — "The Lord is on my side; I will not fear" (Psalm 118:6).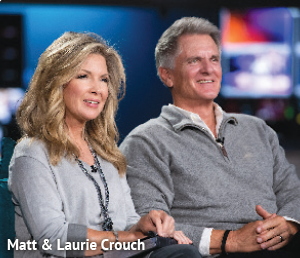 Of course, having such powerful and iron-clad promises in our hearts and on our lips doesn't mean that we'll never have to deal with fear. Some of the greatest "heroes of faith" in Scripture were mercilessly confronted by fear at crucial times in their lives, and if it hadn't been for God's strength in their weakness, the telling of their inspiring accounts of faith and victory might have been far different. But God never allowed fear to dominate their stories — just as it doesn't have to define our lives and circumstances.
King David had a good handle on this truth when he declared to God: "Whenever I am afraid, I will trust in You" (Psalm 56:3). Like David, for each of us there are going to be times in our lives when fear tries to assault us. In order to stand in victory over that fear we will have to face it head on, with the choice of faith in what God's Word tells us over the feelings we have at any particular moment.
In her new book, Do It Afraid: Embracing Courage in the Face of Fear, our good friend Joyce Meyer points out that true, godly, faith-filled courage "is not the absence of fear; it is moving forward in the presence of fear. Courageous people do what they believe in their hearts they should do, no matter how they feel or what kinds of doubts and fearful thoughts fill their minds."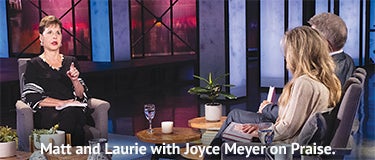 When David declared, "The Lord is on my side, I will not fear," it's clear that he did not mean he was never afraid. Writes Joyce: "I think he was declaring that when he did feel afraid, he would not let fear control him." She goes on to encourage us that as believers, we can embrace the same posture as David: "In fact, it is the only acceptable attitude for a Christian to have. Fear is not from God, and we should resist it firmly in the power of the Holy Spirit. To resist it means to choose not to let it affect our decisions."  Watch the full Praise episode with Joyce here.
"… it's much easier to be confident when we are side-by-side with like-minded Christ followers, spurring each other on
with God's Word and an encouraging voice."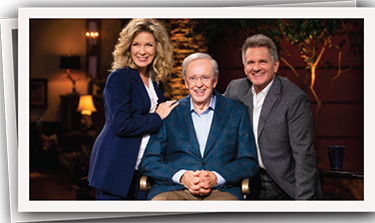 Now let's be clear: Our choice of faith over fear does not come out of thin air. It is the result of being reminded time and again that God is with us through our faith in Jesus, and that His Word is filled with promises of His care and compassion in every situation we face.
What I'm really talking about is believers standing strong together as we navigate the trials and testings in our daily walk of faith. When we face fear and other issues relevant to our faith in God, it's much easier to be confident when we are side-by-side with like-minded Christ followers, spurring each other on with God's Word and an encouraging voice. 
In his book Standing Strong, TBN friend and programmer Charles Stanley shows us how to stormproof our life with God's Word.
That's called community, it's vital to our faith in Christ, and for nearly fifty years it has been foundational to our vision and mission here at TBN. From the first day TBN went on the air, our commitment has been to provide a friendly and safe place — a community — where anyone can find salvation through Jesus, and the hope, healing, and peace only He can provide. And with every moment of every broadcast day, that community extends to providing you and other believers across the earth with inspiration, encouragement, teaching, worship, prayer, uplifting conversation, and much more every time you tune in to TBN.
Another vital part of that community is the commitment individuals just like you are making to stand — and go — with TBN as we fulfill Christ's Great Commission by taking His love and salvation to individuals and families on every continent — as well as to those in our own communities. Through your prayer, your financial partnership, and through sharing TBN programming with those you know and love, you are helping to extend God's Kingdom.
Dear friend, thank you for joining us in this epic, biblical quest to take God's love "to the ends of the earth" (Acts 1:8). Never forget that Laurie and I — and our TBN team — lift you up in prayer, asking God to make you fruitful in His Kingdom, and to fulfill His purpose in your life.
God bless you and yours,
Matt and Laurie
INFO
Author
Published:
Oct 01, 2020 at 07:00 AM