A little over 500 years ago German theologian Martin Luther stepped up to the door of All Saints Church in the town of Wittenberg, and boldly nailed up his ninety-five theses, sparking the Protestant Reformation that turned the nation of Germany — and ultimately the world — back to a Christian faith based solely on God's grace. Today that same clear message of hope and grace is reaching throughout Germany, and into neighboring Austria and Switzerland, via TBN's German-language affiliate Christian network Bibel TV. 
Like much of Europe, over the past several decades Germany's spiritual fervor has grown cold, with churches standing empty and multitudes waiting in darkness for the message of salvation through Jesus. The good news is that younger generations of Germans are now reaching out for spiritual truth, and Bibel TV is there to lead them to Jesus and encourage and mentor them through culturally relevant, Bible-centered programming.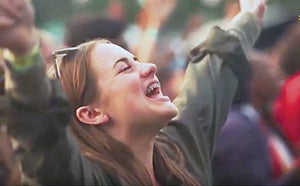 Germany has over forty million television households, and Bibel TV is effectively reaching up to 690,000 of those homes every day with life-changing content — much of it supplied by TBN's studios and dubbed into German. 
"It has been said that 'as goes Germany, so goes Europe,'" noted TBN's Matt Crouch. "And the truth is that Germany wields an incredible amount of influence over the culture and direction of the rest of the European continent. So we believe that effectively reaching the nation of Germany for Christ will have a tremendous impact for the Kingdom of God across Europe. That's why we're so excited about Bibel TV and how it is reaching homes and hearts for Christ throughout Germany." 
To find out more about Bibel TV, and to watch it live, log on to www.bibeltv.de.
INFO
Author
Published:
Jun 01, 2021 at 04:00 AM