International Outreach
TBN Israel Is Touching the World with Dynamic, Life-Changing Content.
Since 2013 TBN has had a state-of-the-art studio in the heart of Jerusalem, creating compelling programming that is seen globally across the TBN family of networks.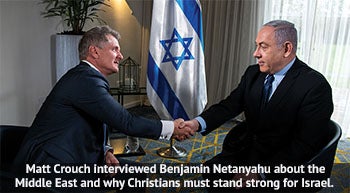 One of the most exciting was the historic interview Matt Crouch conducted in January of this year with Prime Minister Benjamin Netanyahu in Israel, during which the prime minister emphasized the importance of the support his nation receives from the Christian community in America and beyond.
Watch the full program here.
Additionally, TBN Israel produces Praise programs and specials in Israel and the Middle East, many of the special segments featured in TBN's State of Faith series, and popular Israel-themed programs such as Why Israel Matters and The Watchman with Erick Stakelbeck.
A number of TBN global networks have had programming produced at the Jerusalem studio, including TBN Nordic, TBN Polska, Life TV in Estonia, Bulgarian Christian Television, TBN España, and Brazil's Rede Gospel network.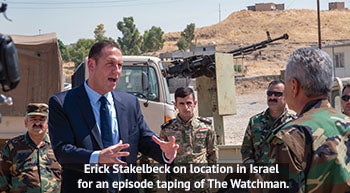 Matt Crouch recalled the prophetic scripture that says, "the Lord's teaching will go out from Zion; his word will go out from Jerusalem" (Micah 4:2, NLT). "Just as Jerusalem was the launchpad for the early church to evangelize the world," he noted, "TBN Israel continues that tradition today by producing programming in multiple languages that is proclaiming the gospel across the earth."