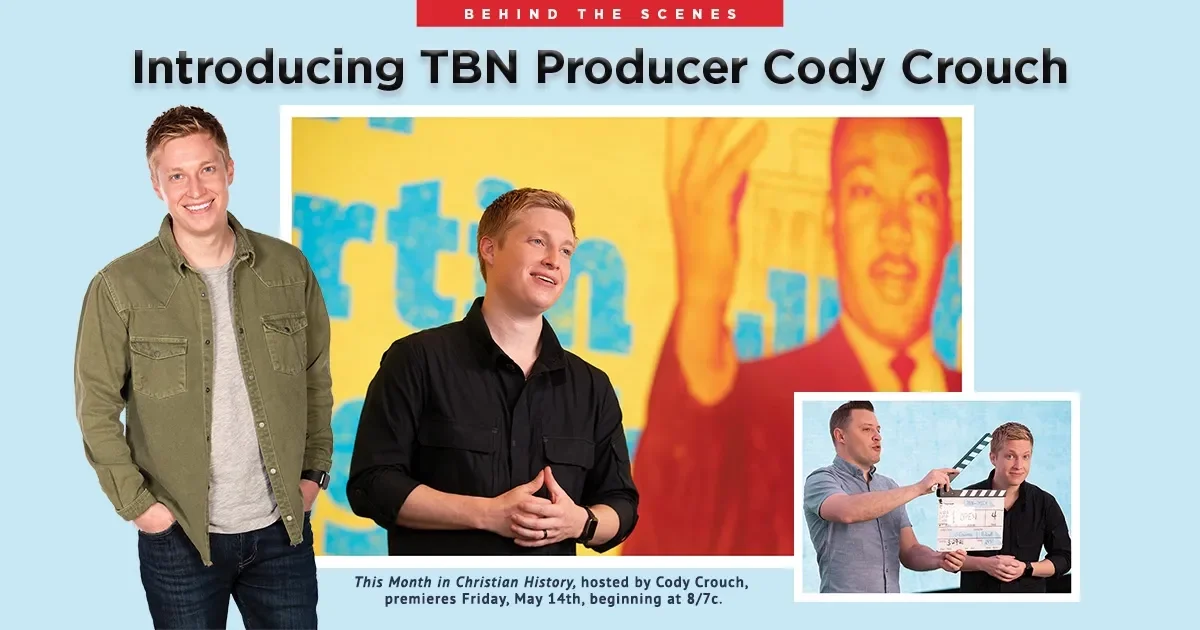 There's a new-generation Christian media trailblazer making an impact for God's Kingdom. Cody Crouch, son of Matt and Laurie and grandson of TBN founders Paul and Jan Crouch, grew up behind a television camera, learning every aspect of the craft of production from his father and grandfather. Now he's diving into his own innovative projects, and introducing new ideas for reaching today's viewers with content that is entertaining, compelling — and life-changing.
We recently sat down with Cody for a question-and-answer session, and here's what he had to say – 
Having grown up in the TBN family and culture, can you recall some of your first memories of being on set and helping out with productions and taping?
My first memories are of running around the studios trying not get into any trouble by disturbing the live programs being hosted by my parents and grandparents and occasionally being called up on stage to recite a scripture I'd recently learned. I've spent my life in studios — they're a second home to me. I was the equivalent of a "gym rat" but for a studio.
How have you been inspired and challenged through watching and working with your grandfather and father over the years?
My grandfather started from scratch, and had to rely 100% on God in order to take the next step in raising TBN. He built an amazing foundation of hardware that now my father is utilizing in amazing ways. The inspiration is every miracle and every story that's come before me. I want to continue the legacy with the same passion for souls that my grandparents had and now my parents have. The Living Bible declares in Psalms 100:5: "For the Lord is always good. He is always loving and kind, and his faithfulness goes on and on to each succeeding generation." If God, did it for them, he can reach the next generation of believers through me.  
What prompted you to want to continue the tradition of creating positive, compelling television, video, cinema content? What inspires and motivates you in what you do?
What inspires me is telling people about the significance of what's come before us. The past is unbelievably important; it's shown us where we've been and how far we've come. I want to tell the stories of people whose convictions led them to standing against the evils of the world, knowing it could very well cost them their lives. God not only works through amazing people today, but even more so throughout history. There is so much we can learn about the past and it's such a shame to me that our history is slowly being forgotten. Today, in our self-obsessed, social media driven society, I want to remind new generations that our modern lives are built on the shoulders of men and women who risked it all to give us these freedoms and liberties. I want to remind people that God isn't done with changing the world, and if we tune into HIS will, HE just might use us to do it.
Having traveled around the world and experienced many different cultures, speak a little to how TBN is presenting the gospel message in a compelling and relevant way globally?
In the roughly 70 countries I've travel to, the one thing that remains the same is that Jesus is always relevant. Today TBN's signal encompasses the globe several times over. There's nowhere on earth, with electricity, that you can't tune in and hear the life-changing gospel. This has given us an unprecedented opportunity to share the message of Jesus 24 hours a day, in nearly 20 native languages— From English, Spanish, Swedish, and Estonian, to Turkish, Farsi, and Urdu. I can still hear my grandfather passionately proclaiming, From coast to coast and around the world, it's time to praise the Lord!" Today, these words echo through the halls of TBN facilities all around the globe. Continuing the legacy of TBN is God's initiative, humbly accepting is mine. God has already laid the pathway for TBN — all I have to do is walk out my part. HE will do the rest like HE's done so faithfully for nearly 50 years.
How do you see the model of faith-and-family television changing in the next ten years? What do you see as the changing needs of a new generation of viewers?
In ten years a lot can happen, especially at the rate technology is evolving. Ten years ago wi-fi barely worked. Now it controls just about everything in our homes. In a single generation, computers went from giant desktop calculators to running the most complex systems on the planet. Today the internet has taken over the world. Broadcast television is no longer the main avenue for content consumption. Millions of people are cutting cable.
Despite this, seemingly miraculously, TBN viewership continues to climb. Theres a level of practicality that I think you have to maintain in digitally spreading the gospel. As neat as it would seem, I don't think anyone wants to slap on a VR headset and watch Joel Osteen preach a message in virtual reality. I don't think it's up to us at TBN to dictate the means of technology to spread the gospel, but to always be willing to pivot to accommodate any change in technology.
My Parents and Grandparents established infrastructure that can easily adapt to whatever twists and turns technology makes. It's now more important to figure out WHAT to say instead of HOW to say it. Grandparents and grandkids alike are using the same devices to consume their content. The challenge is figuring out what will make people look up from their device and look up to God.
I pray that no matter how technology and the world changes, TBN continues its 48-year mission of being a beacon of light on the airways. I pray that it will continue giving hope, grace, and the life-giving message of Jesus to whoever tunes in, on whatever device they tune in on.
Tells us a little about some of the TBN projects you are working on.
I'm currently in production on a nine-episode series called Centuries Collide. In each episode, I take a modern-day idea, concept, or technology and trace it back to a historical figure. These people highlighted throughout the series have had tremendous impact on faith in their part of the world. For example, in one of the episodes I take the modern concept of "posting" on social media and tie it back to Martin Luther in the 1500s — who "posted" his 95 thesis that ended up changing the world. I get to tell you massively significant stories throughout history by tying them to a fresh modern concept. It's fun, silly, and serious, and I'm so excited to finish the project, Lord willing, by the fall 2021.
And in May I officially make my stand-alone TBN debut in a Friday night special titled This Month in Christian History. In each episode I highlight several significant events that happened in the corresponding month throughout history.
INFO
Author
Published:
May 01, 2021 at 07:00 AM