Be Encouraged and Receive From God
The power of a story can't be denied. Stories transmit, transcend, and connect with us on a deep level. A story reminds us of our shared human experience— our triumphs and struggles. There is power in that.  This is why hearing other Believers' stories or testimonies of their personal encounters with Christ, can have a transporting effect. We find ourselves being ushered away from our doubts and being drawn toward hope. As we discover people just like us who've fought similar battles and experienced victory, we are encouraged and motivated to receive from God.  With that in mind, here are just a handful of the countless testimonies we've received from around the world recently.
A WOMAN WITH AN ISSUE OF BLOOD
Our team received this powerful testimony from Anita in Florida: 
"I was like the woman with the issue of blood. Fibroid tumors had devastated my body, and I was hemorrhaging at an alarming rate. My blood pressure began to skyrocket, and many times I felt like I was going to pass out. So I made a prayer area in my bedroom. Mimicking Jesus' story in the Gospels, I even made a robe with a hem I would hold onto daily while praying. That was 15 years ago. I had no surgery and remain healed. I thank God because the ministers on TBN taught me how to pray and depend totally on God."  Anita's breakthrough shows us how God desires for us to experience the manifestation of healing and how He wants you sustained in health for years to come. 
"I tried to be a good Shia Muslim, but I only felt emptiness in my heart."
SPIRITUAL HEALING IN THE MIDDLE EAST
Sin is the greatest sickness mankind battles. We are spiritually dead and disconnected from God until we receive Christ—the antidote for the sickness of all sicknesses. Benham, a Muslim in Iran, received the healing touch of Jesus that led him out of darkness and into the light. 
"I grew up as a Muslim in Iran. I began searching for God when I was 12 years old. I tried to be a good Shia Muslim, but I only felt emptiness in my heart. I was not happy. At age 16 I started using marijuana, alcohol, and opium.  The emptiness and addiction led me into depression. I grew weary of living and wanted to die.  I thought, 'Where is God?' I had thoughts of suicide. I even attempted to do it a few times. One night I turned on the TV and came across a Persian channel—TBN Nejat TV.  It was playing one of Pastor Reza Safa's programs. I usually watched porn in the evenings, but that night I saw Pastor Safa praying for people with drug addictions. His programs interested me, and I continued to watch."
"Eventually, hope and joy came into my heart. I shared Jesus with all my friends and family. Life is difficult as a Christian in Iran. I sought religious asylum. I was finally accepted into the United States three years ago. Now I live in Seattle with my wife and children.  I serve the Lord Jesus as an associate pastor in an Iranian church."
"I immediately realized I had been healed and I could hear."
JESUS STILL OPENS DEAF EARS
We love every testimony we receive. Yet we're stunned by the number of testimonies of God's grace that we are receiving from people in the Muslim world. It even appears to be increasing. Adet in Tehran, Iran, sent us this very short message:
"I'm a Christian Armenian. I was deaf in one ear and had been searching for hope and healing my whole life. One day while I was watching TBN Nejat TV, Pastor Reza was praying for the sick and preaching 1 Peter 2:24.  I immediately realized I had been healed and could hear!  Not a single day has passed where I'm not thanking God for my healing."  "Who Himself bore our sins in His own body on the tree, that we, having died to sins, might live for righteousness - by whose stripes you were healed " (1 Peter 2:24 NKJV).
WE ARE HERE TO PRAY FOR YOU
Prayer is the heartbeat of everything we do at TBN. Praying for our partners is a privilege. In the U.S. and abroad our prayer centers are making an impact with life-giving prayers of agreement.  
Pilar in Madrid had this to say— "I thank God and the people of TBN because they have been supporting us in prayer.  Juana, who was in a coma, has awakened. She can now speak and eat again.  Thank you very much.  
THE POWER OF PARTNERSHIP
We are thankful because we realize the partner testimonies we received would not have been possible if it were not for the generosity of friends like you, whose support has delivered Word-based, hope-filled teaching to hearts and homes. Lives are being changed. People are being healed. And Christ gets all the glory!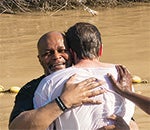 INFO
Author
Published:
Mar 01, 2018 at 08:00 AM