JESUS IS OUR HEALING
A Conversation with Bill Johnson
MATT  Your new book, The Way of Life, is what we are talking about. Would you open the door to what we are going to be breaking down? 
BILL   The way of life is this— God's intention is to influence the nature of this world until it reflects the nature of His world. That is our assignment. Jesus told us to pray specifically for heaven on earth. He told us to pray for the will of God to be done here as it is in heaven. That has to be measurable, or we won't be encouraged by seeing our prayers answered. In John 16 He said you will ask the Father in My name and He will give you whatever you ask, that your joy may be full. The full expression of joy is supposed to come from our co-laboring relationship with God as we see His will done here.
MATT  When I read the book, one part—chapter 9, entitled Jesus: Unafraid of the Secular—was really spectacular to me. Share what you are talking about in that chapter.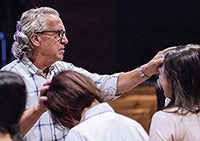 BILL
  God anointed enemy nations to care for the Promised Land, to take care of it until Israel was prepared to inherit it. Outside of His own chosen people, God used the talent of those nations to care for and build up the land that His people would inherit. In the same way, the Lord has a habit of depositing ideas in the secular culture that are supposed to be used by the church. For example, the word
apostle
was developed by the Greeks and borrowed by the Romans. An
apostle
was the lead ship in an armada that would go to a newly conquered area and bring transformation through education, architecture, language, and all of those things. They would make it accurately represent the land they represented. If their emperor would ever visit this newly conquered land, they would feel as at home there as they did in Rome.
I want people to know there is hope despite the situation.  God is not nervous about anything. There is always an answer. —Bill Johnson
MATT  On earth as it is in heaven.
BILL   Yes, we want God to feel as at home here as He does in heaven, because the culture has changed here to accommodate His presence and to live entirely for Him. The Romans started using this concept to transform the culture so it would be an accurate and healthy representation of Rome itself. This idea helps me to better understand what Jesus meant when He told us to pray "Thy will be done."
MATT    Sometimes it feels like the end game of Christians is to develop a great church, but that's just really the preparation place. We have to go and transform the world we live in.
BILL  Church is just an equipping place, and the transformation takes place outside of it. The culture of those cities in our country that have the greatest church attendance are tragically the least transformed (when you look at divorce rates, crime, and all of those social statistics). It's not because there are so many people in church. Those people are changed, but their impact around them stops because they think that church is the end game. We must realize that we are being equipped to take what we experience in church, outside the four walls of the church. We bring transformation.
MATT  Staying with chapter 9... Share more about the secular term for church. This one is really mind boggling.
BILL  The word is ecclesia. When Jesus said I will build my church, He used that term— ecclesia. It means wherever two or three are gathered, they carry governmental influence. It's a secular term referring to an institution that is planted within society to bring about change through that governmental representation. It gives great insight to what Jesus meant when He said, "where two or three are gathered in My name, there I am in their midst." He could have used a term that described a corporate gathering or a temple or a synagogue, but in this case, He was describing His people in their transformational role. Whenever two or three are gathered and they make that commitment together in prayer to a task, they are representing heaven to establish God's order and influence in that secular environment.
What I long for is for us to experience, in a practical way, the reality of heaven here. In heaven, everything is connected to the presence of God, Himself. —Bill Johnson 
MATT  If someone gets your book, what will they learn that may be fairly new to them?
BILL  What I long for is for us to experience, in a practical way, the reality of heaven here. In heaven, everything is connected to the presence of God, Himself. There are no shadows in heaven, because He is everywhere at once, shining at the same time, so that tells me that the culture of heaven is a presence-based culture. In the presence of God are the solutions and answers for every dilemma that we face.
MATT  What kind of transformation do you want to happen from this book?
BILL  I want people to know there is hope despite the situation. God is not nervous about anything. There is always an answer. There is a divine purpose for every part of our lives. My big dream is for the renewing of the mind. I want us to learn to think the way that Jesus thought. The goal isn't to learn a principle so I can duplicate the last miracle. It's to learn the voice so I can respond to what He's saying now. That is a relational journey.
LAURIE  You talk about the Kingdom being inside of us, and a lot of people don't feel that. They don't have peace in the storm. How do we help those people?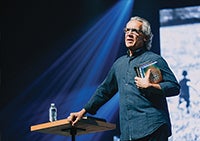 BILL  Everything we think and do comes from love or fear. If there's no realization of presence, then fear is operating. It's one of the two. At some point, we must believe what God said in His Word is absolutely true. He revealed Himself as Emmanuel—God with us. I can be empowered and directed by Him. For every situation that exists on the planet, He has a solution. My cry is that the Lord would give us a renewed mind. The renewed mind proves the will of God which is good, acceptable, and perfect. It's thinking differently that enables us to demonstrate the reality of His world in this one. 
A Prayer from Pastor Bill:
Father, I ask that the presence and power of the Spirit of God would come upon every person that hears this—that there would be such a deep and profound encounter with You, that we would become mindful of You and of Your heart. That we would be contagious in our hope for situations that used to intimidate us, but now we subject them to Your purposes and look at them with great triumph and great victory, knowing that You have already accomplished everything that is necessary to become victorious. In Jesus' name, I pray that there would be clarity of thought and mind. In everything and every place that we are in life, I pray that You would capture the purpose of those moments and that we could give them as offerings to You. We look for You to come and for the fire of Your presence to fall upon the offering that we give You so that every place of employment becomes a place of habitation—a place where Your presence, Your power, Your glory is manifest in the earth. Let the reality of the Old Testament Promised Land shape how we think, how we approach abundance, how we approach the purpose that we are alive. And for all this we say, Jesus be glorified and exalted in everything we are and everything we do.
BILL JOHNSON
Bill Johnson is a fifth-generation pastor on his dad's side of the family, fourth on his mom's. He is an author, speaker, and the pastor of Bethel Church in Redding, California. He is known for his ministries of healing and miracles, and his ability to bridge the gap between generations. 
©2019 Trinity Broadcasting Network. All Rights Reserved. No part of this publication may be reproduced, stored in a retrieval system, or transmitted, in any form or by any means, electronic, mechanical, photocopying, recording, or otherwise, without the prior written permission of TBN.