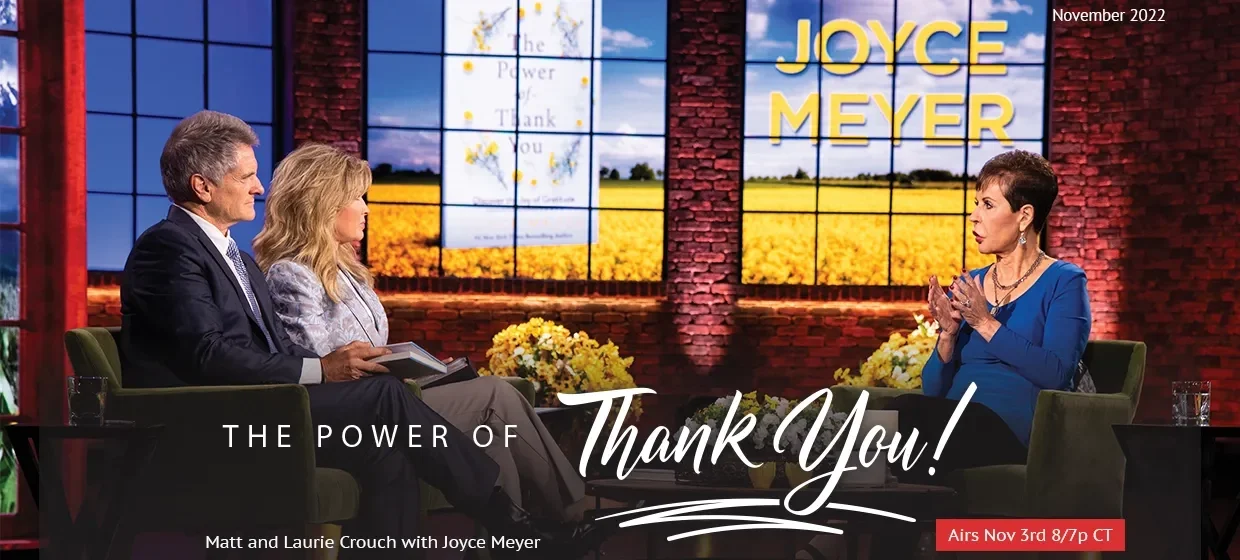 Like many of you, in a few short weeks Laurie and I will press pause on our busy lives to join loved ones around a delicious Thanksgiving meal as we take time to express our gratefulness to God for His many awesome blessings. Someone once counted over seventy instances throughout Scripture where we're encouraged to express our thankfulness to our heavenly Father. And while there are a nearly unlimited number of reasons for us to be thankful, each of them can be encapsulated in this one, simple verse: "Oh, give thanks to the Lord, for He is good! For His mercy endures forever" (Psalm 106:1, NKJV).
Yes, that's right! Because of the finished work of Christ we can be confident that God is always good on our behalf, and His mercy extends to every facet of our lives.
In her new book The Power of Thank You, our dear TBN friend and ministry partner, Joyce Meyer, lays out the importance of thankfulness in the hearts and lives of each of us as God's people. "Because God does so much for us,"she writes, "we should be thankful in every circumstance, even if everything is not pleasant for us at the moment."
In every thing give thanks: for this is the will of God in Christ Jesus concerning you. — 1 Thessalonians 5:18
Joyce goes on to note that thankfulness in and through every situation is one sign that we are growing deeper in our walk with Christ. "We are not born as thankful people," she notes, "but we can cultivate a culture of gratitude in our lives. In the early stages of our relationship with God through Christ, we may not be aware of all the amazing ways He helps and blesses us on a regular basis.... But as we grow in our knowledge of God and His blessings, we realize that the list of things we have to be thankful for is endless, even in the midst of our problems."
Of course, we all understand that it is human nature to complain when things don't go the way we feel they should. But think of the wealth of joy and fulfillment that can be ours in Christ as we embrace the apostle Paul's powerful scriptural admonition: "In every thing give thanks: for this is the will of God in Christ Jesus concerning you" (1 Thessalonians 5:18).
One thing Laurie and I never cease to be thankful for is that, across the earth untold millions of individuals and families have access to the message of God's goodness and mercy through the broadcast outreach of your TBN. We're also deeply grateful to God for the many partners like you who stand with us in prayer and support to ensure that this life-giving message of God's love covers the earth twenty-four hours a day.
Thank you, dear friend, for joining with us as together we endeavor to take the love of Jesus to every nation and people.
May God richly bless you and yours throughout the holiday season.
Matt and Laurie