Reaching the Rest of the World
You Are a Media Missionary to the World.
You might be surprised to learn there is a world population clock on the internet. It's eye opening. 
Can you guess how many babies are born around the world in 24 hours? It's hundreds of thousands! And there are tens of thousands of souls who depart this earth every day. That brings the total world population to about 7.7 billion. 

Exactly how the world's population is calculated in real time involves data, algorithms, and computing power. But for Believers like you, Laurie, and me, the question is not how the population clock works, but "How many of those billions of people know Jesus, and how many don't?" For all of us committed to building the Kingdom, Jesus' words echo across time and space, from generation to generation:
"Go into all the world and preach the gospel to all creation" (Mark 16:15).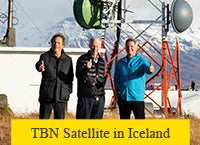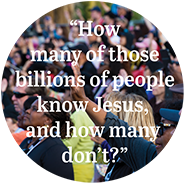 Saving souls and making disciples—the two-fold command of the Great Commission—is foundational to TBN. But it's just as important for every Believer. Of course, accomplishing that looks far different today than it did more than 2,000 years ago, when apostles like Paul evangelized a far less-populated world. 
Paul's methods of sharing the Good News were limited too. Certainly, he wrote letters to churches in Corinth, Galatia, Ephesus, and others. Yet Paul primarily spread the Gospel by walking over land or sailing over water to reach Jews, Gentiles, Greeks, Romans, and pagans.
In his lifetime, Paul logged more than 10,000 miles on three missionary journeys across present-day Israel, Syria, Turkey, and Greece, as well as to Rome, the heart of the empire. It's hard for us to picture what his journeys must have been like and the struggles and suffering he experienced. If he lived today, I'm sure the apostle Paul would be joyfully amazed to see how wide and how far Christianity has spread around the world—the result of God's work through missionaries and the church's support over the centuries.
Media Missionaries
More than 2,000 years later, we at TBN are thankful for our media missionaries­—you and other partners who help change lives around the world through God's amazing message of hope and grace. What makes you a media missionary? Your prayers and support! From wherever you are, you are helping TBN make the Gospel known in an ever-shrinking world through the scope of technology.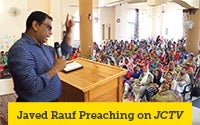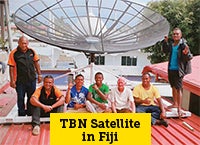 Even though you may not be able to fly to Pakistan or Uganda or other nations where traditional missionaries evangelize, your support of TBN is making it possible for Christian programming to reach those countries and so many others. 
Your prayers and support of TBN allow us to beam and stream life-changing Christian programming to over 175 nations on 30 networks in 17 languages. As a part of TBN's media missionary team, you make it possible to take the Gospel to every inhabited continent on earth 24 hours a day, 365 days a year. You make this happen! 
... TBN provides faith-first, Jesus-honoring programming for nearly 2 billion potential viewers worldwide through traditional broadcasting and countless more through digital streaming.
Maybe you've never thought of your support in this way. Yet we know the mission field is changing. More than ever before, you and I can reach unbelievers through broadcasting technology like satellite and digital communication, as well as through social media, mobile apps, and video-on-demand content.
Thanks to you and other missions-minded TBN Partners, TBN provides faith-first, Jesus-honoring programming for nearly 2 billion potential viewers worldwide through traditional broadcasting and countless more through digital streaming.
And to think TBN began in May 1973 with a half-day of programming to Los Angeles! As Scripture says, "Do not despise these small beginnings, for the Lord rejoices to see the work begin ..." (Zechariah 4:10, NLT).
Faith Comes by Hearing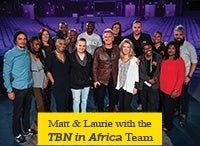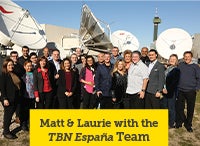 There's another important reason your support as a media missionary is so vital to sharing God's message of hope and grace. We must reach out to the lost
in languages they understand. 
TBN's programming and local shows produced in native languages by our affiliated international networks only scratch the surface of Christian communication and connection. We are looking to the future and anticipating what's next for TBN's spreading of the Gospel and fulfilling Jesus' Great Commission.
What we see is that there are billions more on the planet who do not have access to TBN's life-giving programming. Even with local and TBN-produced broadcasts in 17 languages—English, Spanish, Italian, French, German, Portuguese, Polish, Finnish, Swedish, Icelandic, Russian, Estonian, Bulgarian, Turkish, Urdu, Farsi, and Arabic—we are always looking ahead to touch lives with God's message of hope and grace. 
Here's just one story, shared with us by TBN España managers Pablo and Leyla Vazquez from a prisoner incarcerated in Spain:
Testimony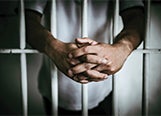 I am from Romania, and I am currently imprisoned in a prison 67 km (41 miles) from Madrid, Spain. Two months ago, I discovered the TBN channel, and there, I can see things that I love, especially your preaching of the Word of God. Please pray for me and for my cellmates. I'm an orphan. I never met my parents, and I was raised in an orphanage. For other circumstances of life, I have also paid 10 years in jail in my own country.
As you can see, I have had a very broken life, I have no house, no wife, no children, but thank God, I am in good health. I am 39 years old. At this moment, I am looking forward to meeting Jesus; I always pray, I read the Bible, although sometimes I forget things, but I want nothing in this life but only to know Jesus, Lord of lords.
Blessings to all TBN pastors. When I hear you preach, I sit in front of the television and listen, and pray for all of you. Here in my cell, I always speak to my Father God and adore Him in my own way. My Father is God. I love you, brothers and sisters. You are my family.
I know that I still have years in jail, but honestly, I don't worry, because my happiness now is to approach God. Of course, I like freedom, but I am guilty of what I have done, but I have a feeling that Jesus, the Owner of my heart, tells me: "Quiet," that everything comes, and that feeling makes me strong, thanks to my Savior. Well, brothers, I always have you in my heart. I know you have mercy on all of us. Don't stop praying for us. The peace of Christ be with you all.
—Anonymous
Dear partner, we know that God is at work within you and through your support of TBN as a media missionary to accomplish ... exceedingly abundantly above all that we ask or think, according to the power that works in us ... (Ephesians 3:20, NKJV).   
Your Impact as a Media Missionary
Together, we are impacting 
the world through
Christian broadcasting.
2 BILLION 
potential households 
reached through 
30+ NETWORKS 
and countless others 
through online streaming.