Toward the end of Luke's Gospel, there is an account of an encounter between the risen Jesus Christ and two of His disciples that demonstrates how crucial all of Scripture is to our faith journey.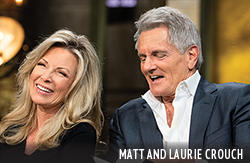 These men were among those who had forsaken Christ as He was being led to His crucifixion. Now they were making their way back home when Jesus overtook them along the road to Emmaus. Unaware of who this fellow-traveler was, the pair were recounting to Jesus the tragic events of the past few days, when He suddenly stopped them with this profound and life-changing challenge: "Ought not the Christ to have suffered these things and to enter into His glory?" (Luke 24: 26) And then, "beginning at Moses and all the Prophets," Jesus Christ, the risen Son of God, "expounded to them in all the Scriptures the things concerning Himself."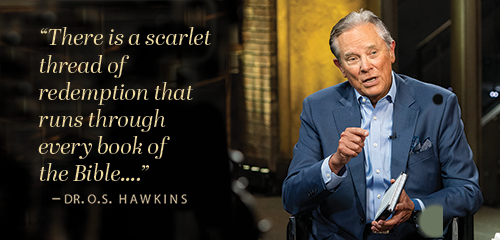 That's right! While we may have a tendency to forget this incredible truth, the entire Bible, Old and New Testament, is all about Jesus! In his powerful book, The Bible Code: Finding Jesus in Every Book in the Bible, our good friend Dr. O.S. Hawkins writes that on the dusty Emmaus road that day," Jesus declared from the very beginning of the Bible … that He was there on every page. He was that ram on Abraham's altar in Genesis.
He was the Passover lamb in Exodus. He was the cloud by day and the pillar of fire by night that led the Israelites in the book of Numbers. He was the fourth man in the midst of the burning fiery furnace in the book of Daniel. He was there in every book of the Bible."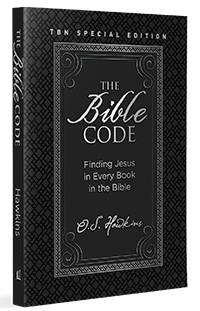 Dr. Hawkins goes on to explain: "There is a scarlet thread of redemption that runs through every book of the Bible until it culminates on a hill outside the city walls of Jerusalem. There Jesus took our sin so that we could take His righteousness. There Jesus died our death so that we could live His life." 
Well said! In 2 Peter 1: 3 we're told that God has given to us "all things that pertain to life and godliness, through the knowledge of Him who called us by glory and virtue."
As Laurie and I sat down recently with Dr. Hawkins, he emphasized that God has given His Word to all people everywhere so that they can clearly see Jesus, embrace Him, and have "all things" they need for every facet of life. "The knowledge of Christ is found in the Bible," he said. "In every chapter and verse He is there, saying, 'Look to me. Look and live!'"
Those words perfectly sum up our mission here at your TBN. With each program we produce and air on every one of our thirty-plus global networks, our goal is to point individuals across the earth to Jesus, to show them the salvation, peace, and joy He has for them.
And friend, your prayer and support of this global outreach of God's love make you an integral part of our mission. It's because of your partnership that we can take the love of Jesus to people all over the world — people who are longing for the hope and healing He alone can give.
Thank you for standing with TBN! Together we're reaching the nations for God's Kingdom.
Matt and Laurie
INFO
Author
Published:
Sep 01, 2022 at 04:01 AM