TBN is Taking the Love of Jesus to America's Prisons.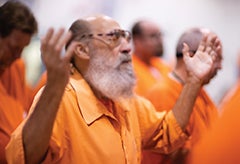 As America has faced the uncertainty and turmoil of the COVID-19 pandemic and social unrest over the past several months, no population has been more dramatically impacted than the more than two million men and women incarcerated in correctional facilities across our nation. But thanks to your prayer and partnership with TBN, untold thousands of those inmates are being comforted, inspired, and spiritually nurtured every day through the life-changing programming of TBN.
It all comes to them through TBN 2nd Chance, an initiative we launched back in 2007, which provides inmates in prisons across America with three powerful TBN networks: our flagship TBN network, the Hillsong worship channel, and the Enlace Spanish-language network.  TBN 2nd Chance pays the total cost of satellite receiving equipment and installation in every prison, giving inmates access to a wealth of teaching, ministry, and inspirational programming.
The result for countless men and women in prison is the exchange of a lifetime of hopelessness and disappointment for the healing, hope, and joy that come from experiencing the love of Jesus. And as the apostle Paul assures us in Romans 5:5, the hope that comes from knowing Christ will never disappoint, because the love of God has been poured out in our hearts by the Holy Spirit who was given to us (NKJV).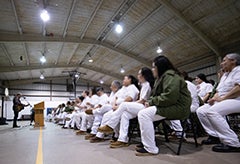 Our TBN 2nd Chance director, Mark Reynolds, told Laurie and me recently that during the heat of the COVID-19 pandemic, a majority of inmates across America were forced into protective quarantine—which meant that their days were mostly spent in isolation and loneliness.
"We've gotten many letters from inmates telling us that the programming available to them through TBN 2nd Chance has been a literal life-saver," Mark explained. "And what could have been a disastrous period of depression and loneliness, instead turned into an oasis of joy in God's presence, as so many soaked up the worship, teaching, and encouragement TBN brought them."
Another of our TBN 2nd Chance team members, C.J. Orndorff, pointed out that whether it's one of the hundreds of minimum­ and standard-security prisons across America, or one of the notorious facilities like California's Folsom and San Quentin, or Louisiana's Angola State Penitentiary, where most inmates are there for life—TBN 2nd Chance is changing hearts and lives every day.
"I've been giving concerts and ministering in America's prisons for many years," C.J. told us, "and I can tell you emphatically that for men and women in prisons coast to coast, TBN is all the Christian community many inmates have. It's a lifeline of God's grace in an environment where hope is hard to come by."
"IT'S AMAZING HOW A THREE-MINUTE SONG COULD MAKE ME REALIZE THAT JESUS LOVES ME JUST AS HE FINDS ME, A DRUG ADDICT AND MURDERER."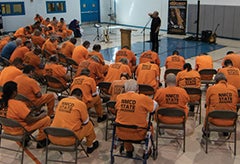 Laurie and I love to read the many notes and letters that come to us from inmates impacted by TBN. One note long ago that really struck a chord with us was from a young man named Jeremy, who told about how he hit rock bottom in prison and had decided to take his life. With drugs on hand everywhere in prison, Jeremy got hold of a gram of heroin, "and I was planning to check out of this world. I was going to turn on some tunes, load the whole gram up, and overdose."
But when he turned on his radio that afternoon, all that came in was Christian music. "I had my syringe full of heroin, and the needle was in my arm, when a song came on, 'As You Find Me,' by a band called Hillsong United," Jeremy recalled. "It's amazing how a three-minute song could make me realize that Jesus loves me just as He finds me, a drug addict and murderer."
"I DROPPED TO MY KNEES AND ASKED GOD TO SAVE ME."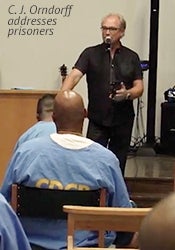 He went on to relate that when the song was over, "I immediately got up and threw the syringe in the toilet and flushed it. I had no idea how to accept God, but I turned on my TV and somehow it was on TBN and a show called
Praise
with Matt and Laurie Crouch." The guests that day were Brian and Bobbie Houston, founders of Hillsong, and when Jeremy realized that the couple speaking words of life from the TV were connected to the band and the song that had just caused him to turn from suicide, "I dropped to my knees and asked God to save me."
Since then, wrote Jeremy, "I haven't turned my TV from TBN.... Whatever you guys are doing, God is blessing you and your ministry. You saved my life."  Jeremy was quick to confess that he still has his struggles. But through the daily impact of what he sees on TV through TBN 2nd Chance, along with the influence of other Christians, Jeremy is living his life for Jesus and is moving in the right direction.
You can view Jeremy's entire amazing testimony here.
Dear friend, as a TBN partner you are a big part of what is happening to Jeremy—and to countless thousands of other men and women in prisons across America—through the ministry of TBN 2nd Chance. Only eternity will reveal the fruit of your faithfulness. Thank you for standing with us.
INFO
Author
Published:
Aug 01, 2020 at 07:00 AM