A WOUNDED WARRIOR FINDS HEALING AND RETURNS TO VIETNAM TO SHARE CHRIST
Turning Tragedy into an Expression of God's Love.
As chairman of TBN, one of the questions I'm asked a lot is, "What does it take to send the Gospel across the globe through Christian television?" The quick answer is, "30+ networks broadcasting in 14 languages, riding on 81 satellite transponders."
But that's only a partial answer. The equipment and hardware are necessary to infiltrate regions where, otherwise, people would have no way to access biblical content in their native language. Yet our broadcast infrastructure and satellite signals are only a portion of the strategy. The true power to effect change in people's lives lies in producing God-inspired content. Many times, this leads us on a search for great stories of people making an impact for Jesus.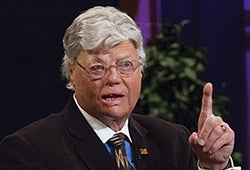 Dave Roever
Recently, this led our team to Vietnam with TBN's longtime friend, Dave Roever. We have been privileged to know Dave for decades. And if you've watched Praise the Lord through the years, you're probably familiar with his story as well.
Dave is a U.S. Vietnam veteran who suffered a tragic injury when a grenade blew up right next to his head in 1969. The devastating blast left his face and parts of his body with 3rd degree burns and changed his life forever.
"I could literally see my own heart beating in my chest, the wounds were so bad."
In Dave's own words, "Your life can change in one second. Sniper fire in Vietnam set off a grenade that blew off my face, ear, hair, and opened my chest. I could literally see my own heart beating in my chest, the wounds were so bad."
It was a miracle he survived his wounds and the aftermath of depression and suicidal thoughts. More importantly, he never blamed God for what happened to him. In fact, God produced a fearlessness motivating Dave to find a way to spread His love to the people of Vietnam.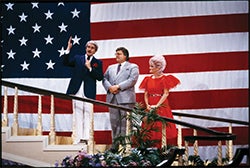 Evangelist, missionary and speaker Dave Roever with Paul and Jan Crouch in 1986.
Dave has sown seeds of love for decades in Vietnam. The people know Dave because they've seen his good works. He's built a pediatric wing at a local hospital and a clinic in their country. He's preached and shared Jesus with them for decades, and his generosity has opened their hearts to receive the message of Christ.
Dave's life story is so compelling, we decided to film a documentary about it.
WE GO WHERE THE STORIES ARE 
To continue to bring you cutting-edge content, we go where the stories are. Dave's life story is so compelling, we decided to travel all the way to Vietnam to film a documentary about it. It was surreal being with him as he led us to the very place where he was nearly killed by a grenade. We are in the production stages right now and can't wait for you to see the final product in the near future.
THE FUTURE OF CHRISTIAN TV IN VIETNAM AND ASIA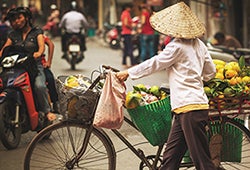 Vietnam village marketplace
We are hopeful about the expansion of Christian television in Asia. We're praying that in the near future the Vietnamese will have their first Christian-content broadcasting network.  You are the reason these kinds of developments are happening all around the world. Your support is creating opportunities for people to receive the Gospel in their native languages, but it also puts boots on the ground in the form of people like Dave Roever who are willing to go and be a physical expression of the love of God.
WE'RE STRONGER TOGETHER 
All of us working together as a team are truly making an impact. We are getting stronger together in grace, while, at the same time, helping the unsaved receive Jesus. And this month we are also focusing on becoming stronger in our health and wellness. We have renowned Christian doctors Janet Maccaro and Scott Hannen to arm us with their practical knowledge, helping us to live long and strong. When it comes to great health, it's not always spiritual. God designed natural remedies to better our health, and we want to bless you with this powerful insight!  
When you give your best gift in support of TBN's outreach to places like Vietnam and other key areas of need around the world, we are going to bless you with Dr. Janet Maccaro's amazing natural health guidebook, Natural Health Remedies.
God wants to empower, restore, and strengthen you.
If you're able to share a gift of $120 or more, we'll also include two additional key resources by our friend Dr. Scott Hannen—his Stop the Pain teaching series on DVD and his eye-opening book Healing by Design. God wants to empower, restore, and strengthen you. These health references can serve as "self-care manuals" with information on natural remedies for the common cold, inflammation, and chronic pain. These are your blueprint for better health, and we can't wait to send them to you.
Laurie and I want you to know how much we love you. You are in our prayers, as we believe with you for your continued growth in grace through the knowledge of the Lord Jesus. God bless you!