God Has a Destiny for You to Fulfill! —1 Peter 2:9
It's hard to believe that forty-eight years have come and gone since TBN first went on the air on May 28, 1973. There are so many memories that come flooding back to me from those early days as my dad and mom, TBN founders Paul and Jan Crouch, followed God's call to pioneer the miracle of Christian television.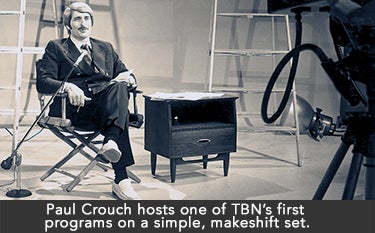 I'll certainly never forget TBN's first night on the air in our little rented office and studio on Dyer Road in Santa Ana, California. The excitement we all had was electric as my parents hosted TBN's inaugural Praise program (still on the air nearly fifty years later) from a little makeshift set that consisted of a borrowed TV camera, a shower curtain for a backdrop, and two folding chairs.
Of course, that was how the majority of TBN's early programs were produced, created from scratch on sets we built out of whatever we had on hand! Yes, it was all pretty amateur and primitive by today's standards with our cutting-edge equipment and state-of-the-art production standards.
That includes the snowy picture our transmitter broadcast in those first days across Southern California. Amazingly, our new little audience of mostly Christian friends and partners tuning in to TBN for the first time enthusiastically embraced what they were seeing — warts and all. And as they watched they thanked God for this new gift of life-changing Christian programming that was poised to take the message of salvation through Jesus to spiritually needy individuals in their own neighborhoods and communities.
As we look back across the nearly half-century since TBN first went on the air, one of the few constants has been that core of partners like you who have faithfully stood with us as we pursue TBN's vision of reaching ever more "souls, souls, souls" (as I can still hear my father say) for the Kingdom of God. Today we are touching untold millions of individuals in every corner of the earth with the message of God's love, and it's still that simple partnership with people who love Jesus and share our vision to reach the lost that is the foundation of the eternal fruit TBN is bearing every day.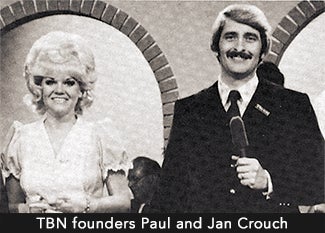 Over the years my parents often reflected on why God chose them to launch TBN and pioneer the advance of television evangelism across the earth. And the answer always came out the same. "We were unqualified — but we were available," my dad said. "That's why God used us."
Someone once asked my mom what the biggest miracle was in the story of TBN's success. "It's that we got to be a part," she answered. "We weren't the most talented people God could have used. In fact, we've often wondered why He chose us for this work. And I believe I can say it is because we were available. We have always said that if God can use us, He can use anyone."
My parents' availability and willingness to step out in faith — even in circumstances that seemed impossible — has been a great example to Laurie and me as we continue to lead TBN's global outreach today. What was true then is true now: God is faithful to use those who may not be the most qualified, but who are willing to trust Him to accomplish through them what they could never do on their own.
In his powerful book X: Multiply Your God-Given Potential, our good friend in ministry, John Bevere reinforces the truth that if we will trust God and step out with the abilities He has given us — regardless of how small and insufficient we think they are — He will step in with His power to give us success beyond all we could imagine.
"God is faithful to use those who ... are willing to trust Him to accomplish through them what they could never do on their own."
"Believe that God has equipped you to go far beyond your own ability," he writes. "He has given you no other option for strength and empowerment than to depend on His grace. When you do this, you will enter into the true rest — ceasing in your own efforts, no longer striving to produce results. What is this rest? It is to cooperate with God's ability to accomplish your mission. When you enter rest, God will lead you to multiply."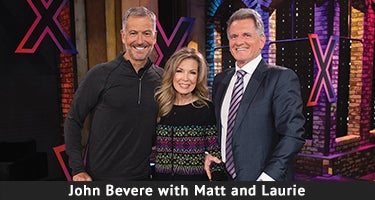 If you're uncertain about whether or not God has chosen you for destiny and fruitfulness in His Kingdom, I want to remind you of what God's Word has to say about you. The apostle Peter declares that, through Christ's finished work, you are part of God's "chosen people, a royal priesthood, a holy nation, God's special possession, that you may declare the praises of him who called you out of darkness into his wonderful light" (1 Peter 2:9, NIV).
Yes, that's right! Each one of us is God's "special possession," chosen by Him to carry His message of hope and grace to our families and friends, to our neighborhoods and communities — and to the nations. No, we're not all called to the same arena, or even to the same size and scope of outreach. But we're all called — we've all been chosen by God to be fruitful in our realm of influence.
Laurie and I never cease to thank God for each of you who have embraced praying and partnering with TBN as part of your calling and destiny. Be assured that God takes your faithfulness and commitment and multiplies it exponentially to take His gift of salvation through Jesus to individuals and families who may otherwise never experience the reality of His love.
Thank you for your availability and obedience. Our love to you always.
Matt and Laurie