From left, Founders of Ancient Nutrition, Dr. Josh Axe, Jordan Rubin, with Laurie & Matt Crouch and Tom Newman.
Check out our TBN program about collagen here! Ancient Nutrition is the only collagen on the market with ingredients backed by human clinical studies. The common thread among your joints, hair, and skin is that they're all mainly made up of collagen. 
And after extensive human clinical studies, we found that our newly added fermented collagen ingredient impacts each of these areas in incredible ways: * 
✔️ Relieves your joint discomfort rapidly and persistently! 
✔️ Increases your knee function and decreases knee stiffness! 
✔️ Boosts your exercise recovery by a whopping 56%! 
✔️ Improves your crow's feet appearance after 28 days! 
✔️ Reduces hair breakage! 
It's more than just collagen. It's clinically studied ingredients to get you real results!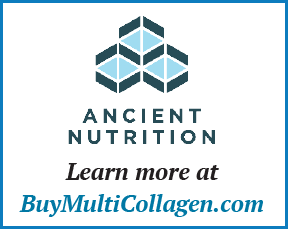 * These statements have not been evaluated by the Food and Drug Administration. This product is not intended to diagnose, treat, cure, or prevent any disease.
INFO
Author
Published:
Jun 01, 2021 at 04:00 AM