Donate
The Comeback by Lou Giglio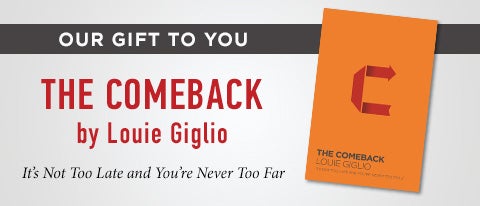 Do you long for a new beginning?
We all know what it feels like to have life disappoint us and not work out as we'd hoped. We all know what it's like to long for something different, something better, something more.
The Comeback celebrates new beginnings. It offers encouragement and perspective, and it's for you if you feel frustrated or confused, if you're sorrowing or in pain, if you've made mistakes or are grieving, if you're disappointed or feel as though life doesn't make sense.
For your gift to TBN of ANY AMOUNT, you'll receive Lou Giglio's book, The Comeback. To thank you for giving generously in support of the work of TBN's worldwide broadcasting, we want to send you this resource to help you discover your new beginning in God!
Please use the form to submit your donation of any amount to TBN.
Your copy of The Comeback will be sent to you with our love and thanks for being a part of the sending the gospel of grace around the world!
Donate Today!
Your donation
Amount:
Type of Donation:
Ministry:
Ministry Resource:
Edit
Credit / Debit Card
Bank Account
Edit