Donate
In God We Trust from Legacy Productions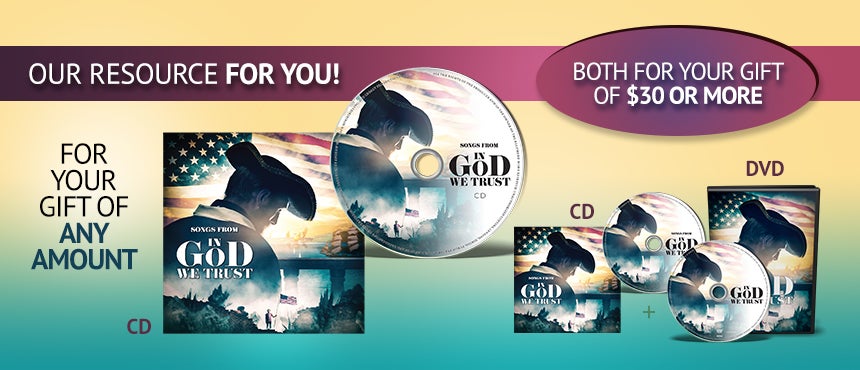 Celebrate Liberty!
The freedoms we enjoy in America came at a price — one that untold thousands of brave men and women have paid over the years as they have fought and served to protect our heritage of liberty. In God We Trust is an unforgettable cinematic tale of courage and faith told through the lens of a small church in Texas. While a father serves in Afghanistan, at home his family prays and waits for his return. But as they prepare to celebrate the Fourth of July, word comes to the soldier's wife that her husband has been captured by hostile forces. Will the family's trust in God be enough to carry them through?
For your gift of any amount
We'll send you the CD songs from In God We Trust.
And for your gift of $30 or more
We'll also send you the DVD movie presentation of In God We Trust — in thanks for your partnership with TBN in sending the love of Jesus to people around the world.
Please use the form to submit your donation. And thank you for joining with us to share God's incomparable message of hope and grace.
Your donation
Amount:
Type of Donation:
Ministry:
Ministry Resource:
Edit
Credit / Debit Card
Bank Account
Edit