Beth Moore's "Living Proof" Comes to Television Jan. 6th — Only on TBN!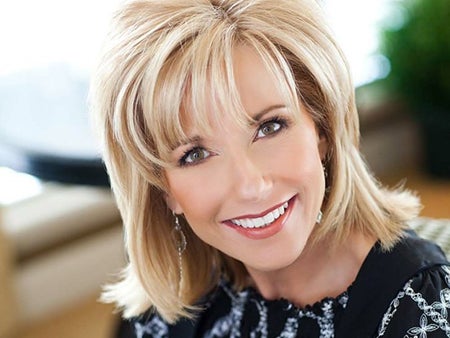 LOS ANGELES (January 6, 2015) — She has taken the message of God's love, forgiveness, and restoration to millions of women through her conferences, best-selling books, and daily radio program. Now popular Bible teacher and dynamic inspirational speaker Beth Moore is coming to television with a new weekly program, Living Proof, premiering Wednesday January 6th, exclusively on the Trinity Broadcasting Network.
"We are excited to introduce Beth Moore to a whole new audience through Christian television," said TBN Chairman Matthew Crouch. "Millions of women have been impacted by her conferences and Bible studies. And now they can see her on TBN every Wednesday evening in Prime Time — 7 p.m. Pacific."
Since founding Living Proof Ministries in 1994 with her husband, Keith, Beth Moore has made it a mission of passion and purpose to guide women and their families into a richer, more fulfilling relationship with Jesus. Every year Beth hosts tens of thousands of women at Living Proof Live events across America, and her best-selling Bible studies and books — including her latest title Audacious — have helped millions of women across the earth step into a deeper understanding and embrace of God's love and purpose for their lives.
Speaking of the new weekly television program on TBN, Beth said that "I have a desire to see people enjoy Jesus. Yes, I want people to be saved. I want people to trust Him. But I want them to step in even further than that and find out that He is the greatest thing that ever happened to them in their earthly life."
Don't miss Beth Moore's Living Proof every Wednesday beginning January 6th at 7 p.m. Pacific (9 p.m. Central, 10 p.m. Eastern), exclusively on TBN.
About the Trinity Broadcasting Family of Networks
With 28 networks and growing worldwide, the Trinity Broadcasting Family of Networks is the world's largest faith-and-family television group, airing a broad range of church and ministry programming, Christian music, family-friendly movies, children's programming, and shows for teens and young adults 24 hours a day to every inhabited continent via 86 satellite channels and thousands of television and cable affiliates. In addition, TBN's most popular global networks are available on computers, smart phones, and other mobile devices, and over 36,000 entertaining and inspirational On-Demand programs are accessible via TBN's innovative online network, iTBN.org. To find out more about the Trinity Broadcasting Family of Networks, log on to www.tbn.org.
Media Contact
Colby May
E-Mail: cr@tbn.org
Tel: 972-313-9500