Donate
Uninvited by Lysa TerKeurst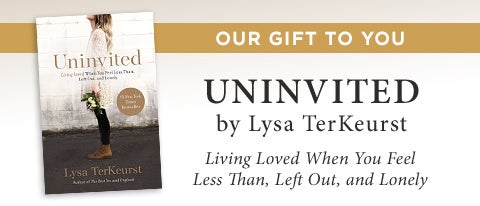 Overcome Rejection … Live Free and Loved!
The enemy wants us to feel rejected . . . left out, lonely, and less than.
In Uninvited, Lysa TerKeurst shares her own deeply personal experiences of rejection - from the perceived judgment of the perfectly toned woman one elliptical over to the incredibly painful childhood abandonment by her father. She leans in to honestly examine the roots of rejection, as well as rejection's ability to poison relationships from the inside out, including our relationship with God.
Uninvited will help you:
Stop feeling left out when you are overlooked by believing you are handpicked by God.
Learn God-honoring ways to process your hurt.
Know exactly what to pray for the next ten days to steady your soul and restore your confidence during rejection.
Overcome the two core fears feeding insecurities by understanding the secret of belonging.
For your gift to TBN, you'll receive Lysa TerKeurst book, Uninvited.
To thank you for giving generously in support of the work of TBN's worldwide broadcasting, we want to send you this resource to help you receive the love of God more than ever!
Please use the form to submit your donation of any amount to TBN. Your copy of Uninvited will be sent to you with our love and thanks for being a part of the sending the gospel of grace around the world!
Your donation
Amount:
Type of Donation:
Ministry:
Ministry Resource:
Edit
Credit / Debit Card
Bank Account
Edit