The Legacy of TBN
Tracing the History: A Dream to Globalize Christian Television


Fifty years ago Christian television pioneers Paul and Jan Crouch joined a small group of dedicated friends and partners to step out by faith into a God-birthed vision to use television to take the life-changing message of Jesus Christ across America and around the world..
The beginnings were modest, as TBN launched on May 28, 1973, with one small, part-time station airing a few hours of homemade Christian programming each day throughout the Los Angeles area. But God breathed life into this humble start, and soon people from all walks of life and circumstances were tuning in. Lives were changed, the word spread, and before long folks across America and beyond were asking for this miracle of Christian television. Within just a few years TBN was expanding to cities across the U.S., and then to nations and locales around the world, where millions experienced the message of hope and grace through Jesus for the first time through innovative, life-transforming Christian programming.
Right from the start, Paul and Jan insisted that the growth of TBN should be founded on the prayer and partnership of everyday individuals who enjoyed TBN's programming and were enthusiastic about its vision to reach individuals and families with the love of Jesus. Early on TBN introduced an innovative partnership program, called the Praise-a-Thon, designed to bring viewers up-close to all the excitement and action on the TBN set, and give them a sense of the passion for souls and love for Jesus that motivated everything that was happening at TBN.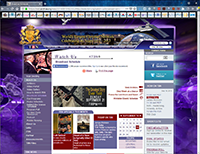 Click to enlarge image of TBN's first website launched in 2002.
Praise-a-Thon is an unforgettable experience — and a blessing for both the viewers and those participating in the studio. A typical Praise-a-Thon includes live music by award-winning and anointed Christian artists of the day, inspiring messages from top pastors and Christian leaders, and plenty of testimonies of lives changed as a result of people turning in to TBN. Of course, the crucial theme and thread running through every Praise-a-Thon from start to finish is an invitation for our viewers to become partners with TBN in regular prayer and financial commitment — literally to become a part of the TBN family in helping take the miracle of Christian television to every corner of the earth.
The success of TBN's Praise-a-Thons speaks for itself. During the more than forty year broadcast run of the Praise-a-Thons, untold thousands of viewers and friends embraced TBN as "their network," praying regularly for TBN and sowing their precious financial gifts into the good ground of TBN's ever-expanding global outreach.
The result is that today TBN touches over 175 nations in more than a dozen languages through 30 (and growing) global networks airing a wide range of church and ministry programming, Christian music and worship, compelling talk, family-friendly movies, children's programming, and exciting, relevant content for teens and young adults.
TBN has always been quick to embrace technologies that extend its reach to more people with the hope of the gospel. In the 1970s TBN was one of the first networks to use satellite to broadcast its programming globally. TBN was also an early leader in using the Internet to share its content online. Today millions of viewers around the world use TBN's apps to watch our TBN networks live on smart phones, tablets, and laptops. Additionally, thousands of hours of exclusive content are available to viewers everywhere through TBN's on-demand video platform.
Recognizing the great need to reach men and women in prison with the love of Jesus, several years ago we launched TBN 2nd Chance, a compassionate outreach providing TBN's top Christian networks for free to hundreds of prisons across the U.S. — impacting a potential of over one million inmates.
Without a doubt, we've come a long way since that memorable evening in May 1973, when Paul and Jan Crouch joined their small team of friends and partners to dedicate TBN to God before going on the air for the very first time. Asked shortly before his passing about the secret behind TBN's fruitfulness and success, Paul reflected: "There were certainly people with far more ability and resources that God could have used to take the message of Jesus to the nations through television. But with all of our lack and limits, we had three essential qualities that made all the difference: We were available, we had faith to believe God for the impossible, and we had a core of partners who shared our vision and stood with us. And it is those qualities that will continue to keep TBN on task, taking hope and healing to the nations — until Jesus returns."

PTL
PTL® is one of the flagship programs on the Trinity Broadcasting Network (TBN), airing every weeknight in primetime. PTL® first aired on TBN in 1973, and it continues to be Relevant, have Amazing guests and Inspiring talk. Where faith and culture meet. Watch now!
Praise-a-Thon
Here are some great TBN Praise-a-Thon shows.

True