Donate
A Life Beyond Amazing by David Jeremiah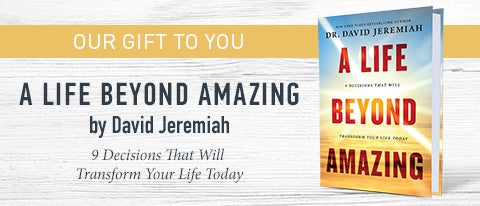 Living your best life doesn't have to be a mystery...
You were created to thrive in every season of life - even during times of tests and trials. And God has provided a way for you to weather the storms of life with strength and confidence.   A Life Beyond Amazing, by New York Times bestselling author David Jeremiah, reveals God's divine strategy for transformation, quality living and spiritual development.
In this book, you'll discover:
3 reasons why you struggle in your spiritual walk
How the internal work of the Holy Spirit produces victorious living
9 decisions that will radically transform your life
For your gift of $25 or more:  TBN wants to send you David Jeremiah's, A Life Beyond Amazing, to help you change your life for the better.
Thank you for your willingness to support our outreaches. Your gifts enable the Gospel to spread throughout the earth!
Please use the form to submit your donation and we'll send your 'thank you' resource with our gratitude!
Donate now!
Your donation
Amount:
Type of Donation:
Ministry:
Ministry Resource:
Edit
Credit / Debit Card
Bank Account
Edit