Donate
Believe Boldly! Bundle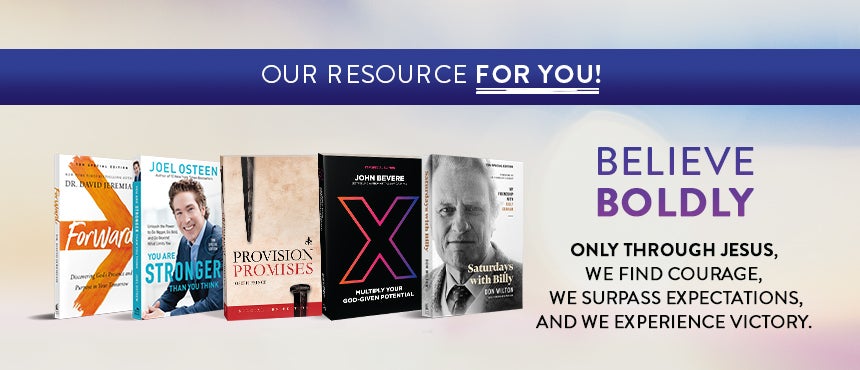 Believe Boldly!
Jesus said that if we have faith the size of just a mustard seed, nothing will be impossible for us. The simple truth is that God wants each of us to step out and believe boldly for all He has for us. Yes, that kind of faith can be an integral part of your daily walk with Jesus. And to help you in that quest we are excited to offer you the following faith-building resources:
Provision Promises. Get ready to be encouraged as you dig into this power-packed book from Pastor Joseph Prince! Overflowing with faith-filled inspiration from God's Word, Provision Promises will fill your heart with rich revelation of the abundant life that is yours through the finished work of Christ.
Saturdays with Billy. Most of us know Billy Graham as a man of God who led millions to faith in Christ. In Saturdays With Billy, Don Wilton, Dr. Graham's longtime pastor and friend, shares memories of the Billy Graham he grew to know over the many years he spent with him every Saturday, talking for hours about many things — including the deep faith they shared.
You Are Stronger Than You Think. Get ready to discover a strength that propels you forward — and the power to do what you thought couldn't be done! In You Are Stronger Than You Think, pastor and New York Times best-selling author Joel Osteen shows you how, when you feel like you can't go on, God is right there to give you special strength to accomplish what seems impossible.
X: Multiply Your God Given Potential. Do you ever sense that there is something more you should be doing in life, but you can't quite identify what it is? In X: Multiply Your God-Given Potential, popular speaker and bestselling author John Bevere uses God's Word, along with some compelling stories and testimonies, to help you identify and fulfill the call God has on your life.
Forward: Discovering God's Presence and Purpose in Your Tomorrow. In this powerful, faith-building book, pastor and New York Times bestselling author Dr. David Jeremiah offers a biblical "master course" for finding the path of success and joy in your future. With each page you'll discover God's perfect plan to expand your dreams, give you divine direction, and chart a godly destiny that will continue for generations to come.
For your gift of $40 or more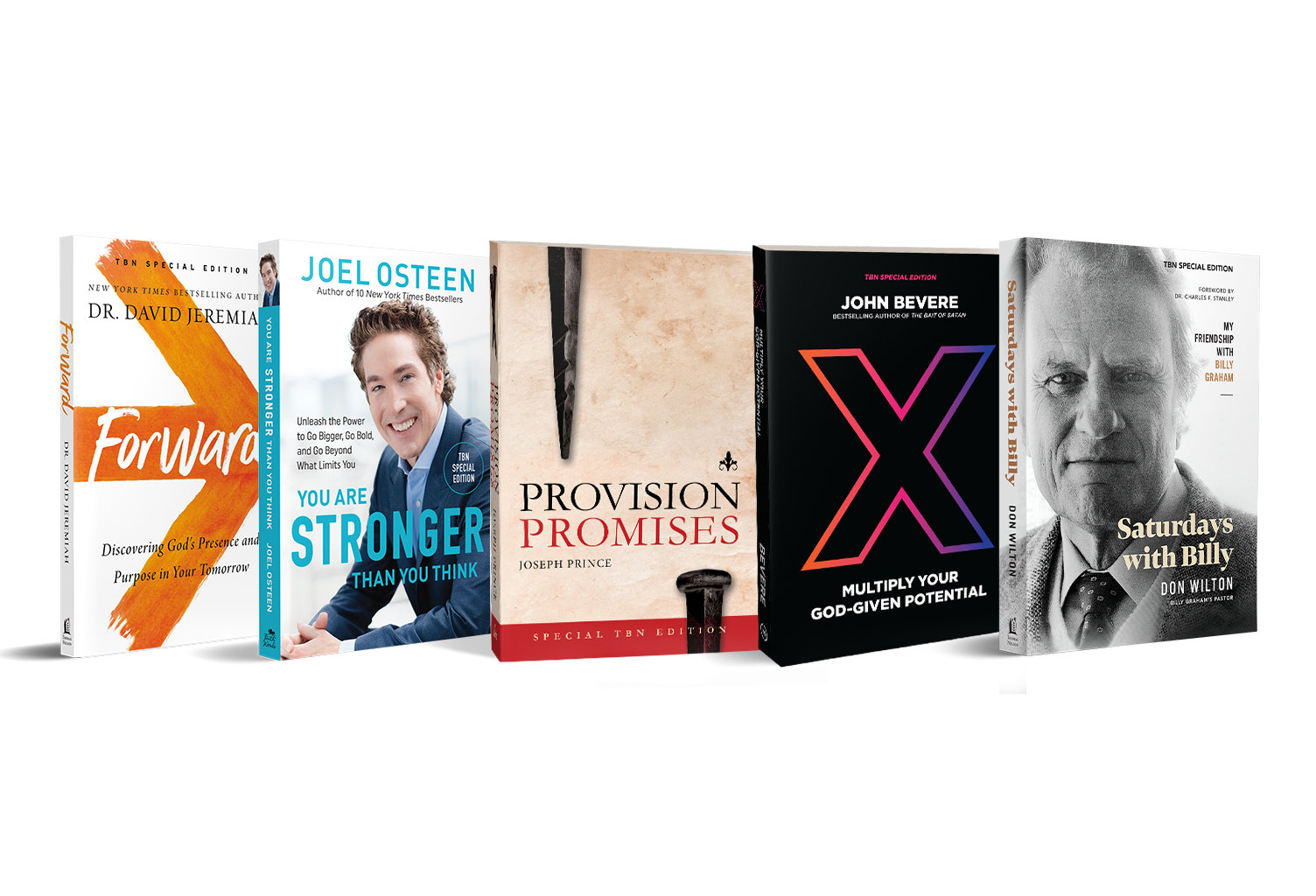 We'll send you all five of these resources with our gratefulness for your partnership in helping TBN send God's gift of love around world.
Please use the form to submit your donation. And thank you for joining us in reaching individuals and families across the earth with the Good News of Jesus Christ.
Your donation
Amount:
Type of Donation:
Ministry:
Ministry Resource:
Edit
Credit / Debit Card
Bank Account
Edit