Donate
The Exchange Zone by Christine Caine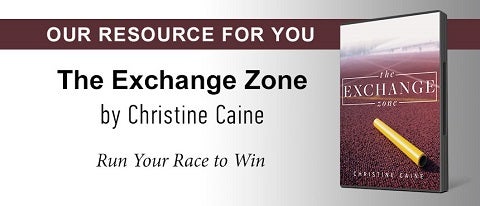 Run your race with God and make an impact on this generation...
In every relay race, there comes a critical moment as one runner passes the baton to the next. That pivotal exchange determines victory or defeat. Christine Caine wants you to know that you have been given a baton to pass to the next generation. You are called to run a race that began before you were born and will continue until Christ returns.
In her new series, The Exchange Zone, Christine brings you her personal insights on what it means to run faithfully and finish well. With passion, energy, and humor, she challenges you to take a legacy-minded view of your life. These messages will provide fuel for your faith so you can go the distance and pass the baton to the next generation.
For your gift of any amount: We want to bless you with The Exchange Zone DVD series to help you move beyond the pain of your past so you can press forward into your God-given future and powerfully impact your generation.
When you support TBN, you are helping send the Gospel into the homes of those desperately in need of Christ. Please use the form to submit your donation. Your copy of The Exchange Zone will be sent to you with our love and thanks.
Donate now!
Your donation
Amount:
Type of Donation:
Ministry:
Ministry Resource:
Edit
Credit / Debit Card
Bank Account
Edit