Donate
Goliath Must Fall by Louie Giglio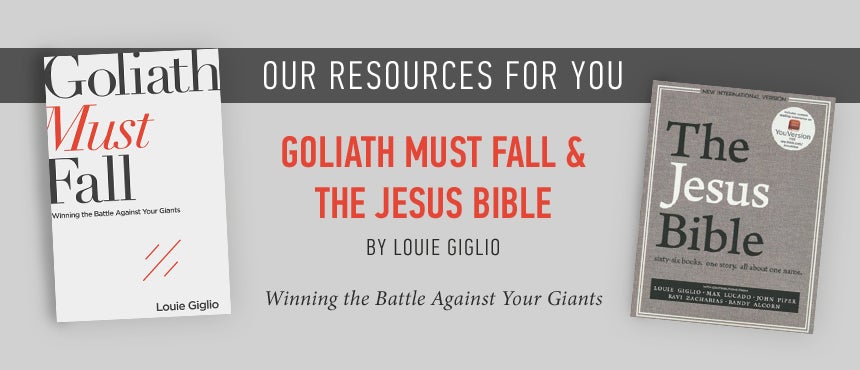 It's time for you to experience victory over your giant…
You will encounter giants in this life. Fear, rejection, addiction—they're adversaries meant to limit your life. Louie Giglio's, Goliath Must Fall, will show you God's plan for experiencing victory over your giant. Using the classic story of David and Goliath, Giglio reveals a newfound twist that is the key to silencing your giant once and for all.
For your gift: TBN wants to bless you with Goliath Must Fall, to help you experience Jesus—the ultimate giant slayer. Your gift of support allows us to fulfill Jesus' great commission and sends the light of the Gospel to dark souls worldwide.
Gift of $168 or more: Encounter Jesus in all of Scripture! The Jesus Bible, NIV Edition, is an accessible study Bible that helps you see Jesus in every book—so that you may know Him more intimately, love Him more passionately, and walk with Him more faithfully.
Your seed is helping people overcome the giants in life and we want to send you Goliath Must Fall as our "Thank You" for your generosity. Please use the form to submit your donation. Your copy will be sent to you soon. Thank you!
Donate now!
Your donation
Amount:
Type of Donation:
Ministry:
Ministry Resource:
Edit
Credit / Debit Card
Bank Account
Edit