Without a doubt the past few months of pandemic and social unrest have demonstrated that for each of us, life is filled with uncertainty. Proverbs 27:1 confirms this when it wars us not to be overly confident about tomorrow "for you do not know what a day may bring forth" (NKJV).
But while we may not know what a given day or season of life holds, the Bible is clear that our heavenlty FAther is acquianted with all our ways (Psalm 139:3), and holds our days -- and our destiny -- in the palm of His hand. If the events of the past months have caused you to wonder about God's care over you, I inivite you to go back to Psalm 23 and refresh your heart on His intimate care over ll that concerns you. 
As you page through this most recent edition of our interactive Behind the Scenes at TBN quarterly report, you will get a front row view of the exclusive programming we've been airign over the past three months, deisgned to bring peace, comfort, and courage to ur viewers as they navigate thorugh these days of crisis and uncertainty.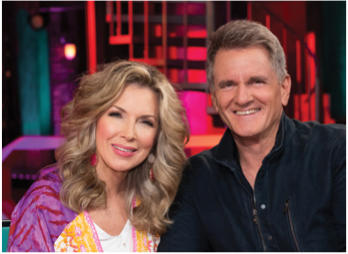 Matt and Laurie Crouch
It begins with our page 3 cover story highlighting the important issues of racial reconciliation, followed by some powerful clips from a series of specials hosted by bestselling author and pastor Max Lucado, themed on the hope we have in Jesus through every circumstance we face in life.
In April TBN celebrated the first anniversary of Better Together, the exclusive daily talk show produced entirely by and for women. On page 6 you'll find out how this innovative program is building a community of like minded women across the earth as it highlights topics and issues of importance to women everywhere. On page 10 we'll introduce you to one of our powerful international networks, JCTV Pakistan, which is reaching over 200 million individuals throughout Asia, the Middle East, Europe, and beyond with life-changing programming in the Urdu language.
And don't miss our special video rich update, beginning on page 7, highlighting the best from TBN's Praise shows over the past three months, along with a look at some of our other exclusive programming.
As always, Laurie and | want to emphasize the key role you have in this global television outreach, as you pray for TBN, as you partner with us financially to expand this network's impact, and as you share vital TBN programming with those you know who will be touched and changed by it. Together we are fulfilling Christ's Great Commission to share His love with everyone possible.
May God bless you as you love and serve Him daily,