Donate
Blessed in the Darkness by Joel Osteen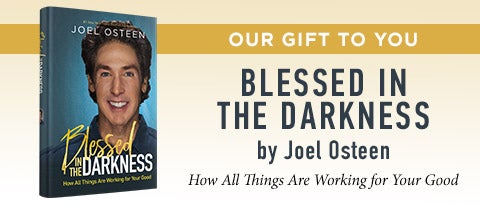 God can turn your darkest times around for your good…
Jesus didn't promise us we would go through this life without facing adversity. You will walk through dark times and unexpected challenges. But the God of your mountaintop is also the God of your valley experiences. Joel Osteen's newest book, Blessed in the Darkness, will show you how to remain in an attitude of faith and trust through tough times. Joel's practical insight and scriptural application will reveal to you:
How God makes your toughest times into moments of your greatest progress
The power of trusting God when life doesn't make sense
The table of blessing prepared for you
And much more!
For your gift of support today, TBN wants to send you Blessed in the Darkness to help you overcome the dark times and strengthen your faith. Be ready to receive the blessing that causes your cup to run over!
We can't thank you enough for your generosity and willingness to support the preaching of the Gospel. Please use the form to submit your donation. We will send Joel's new book to you right away with our heartfelt appreciation.
Donate now!
Your donation
Amount:
Type of Donation:
Ministry:
Ministry Resource:
Edit
Credit / Debit Card
Bank Account
Edit