Franklin Graham Addresses Christians on Pre-Election TBN Special, Nov. 1st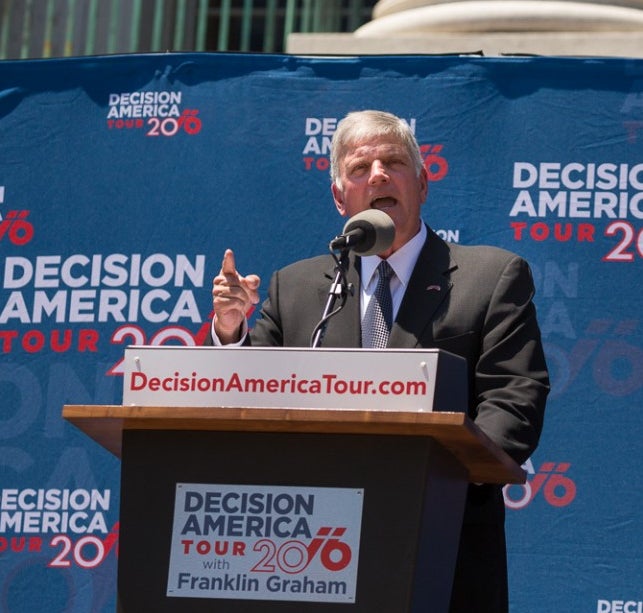 LOS ANGELES (October 31, 2016) — Franklin Graham will be the guest on a special pre-election edition of the Trinity Broadcasting Network's Praise ministry and talk show Tuesday, November 1st. Son of internationally renowned evangelist Dr. Billy Graham, Franklin will join TBN's Matt and Laurie Crouch to talk about how crucial it is for Christians to pray for America and vote according to biblical values in the upcoming election November 8th.
"In the last presidential election, it's estimated that 20 to 30 million Christians stayed home," Mr. Graham noted. "We can't let this happen again. The future of our nation is riding on this election.... The Christian voice needs to be heard on November 8th."
Throughout 2016, Mr. Graham took his message to the steps every State Capitol in the nation, emphasizing to audiences that a once strong and God-fearing America stands at a critical point in its history. The November 1st Praise program will include a powerful short video documenting that year-long campaign, and people's response to it.
"If God's people are silent during 'such a time as this' (Esther 4:14, NKJV), I fear for what will become of our once great and blessed nation," said Mr. Graham. "What kind of country will we leave for our children and grandchildren? Let's pray together that our nation will turn back to God and that He will heal our land."
Join hosts Matt and Laurie Crouch as they welcome Franklin Graham for an important pre-election Praise special Tuesday, November 1st, at 10 p.m. Eastern / 9 p.m. Central / 7 p.m. Pacific — only on the Trinity Broadcasting Network. You can also view TBN live online at itbn.org/channels/tbn.
Media Contact
Colby May
E-Mail: cr@tbn.org
Tel: 972-313-9500