NYT Bestselling Author, Nationally Syndicated Talk Show Host Eric Metaxas Bringing Popular Radio Show to TBN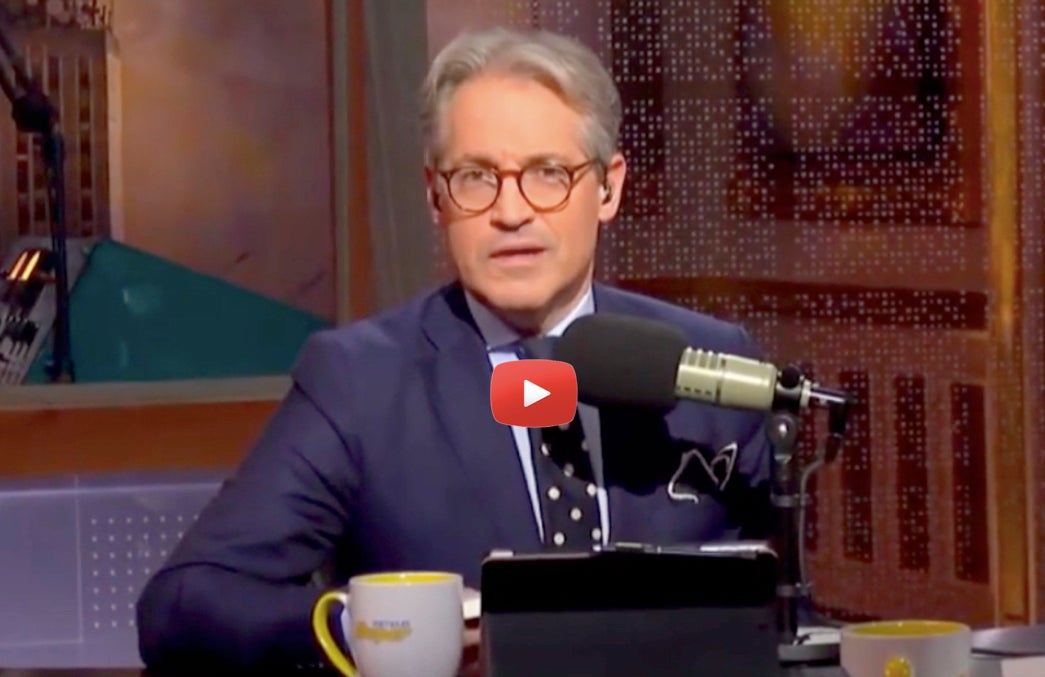 NEW YORK CITY (May 9, 2019) — The Eric Metaxas Radio Show is coming to TBN, America's most-watched faith-and-family television network. TBN announced that the popular daily radio program — known as the "Show About Everything" — is moving its broadcast operations to TBN's studios in New York City, and will begin a new weekend television edition of the show on TBN beginning May 17th.
Metaxas is a respected cultural commentator and New York Times bestselling author whose daily two-hour show, nationally syndicated on the Salem Radio Network, is widely known for its compelling and thought-provoking guests from the worlds of politics, entertainment, faith, and more. Past guests for the daily show have included iconic television host Dick Cavett, presidential candidate and Forbes magazine editor-in-chief Steve Forbes, author and award-winning Wall Street Journal columnist Peggy Noonan, comedian and actor Tony Hale (Arrested Development), Emmy-winning actress Patricia Heaton (Everybody Loves Raymond), popular sportswriter Jason Gay, and legendary pop composer Paul Williams — to name just a few.
"Matt Crouch and TBN bring an energy, enthusiasm, and excellence to all they do that is infectious and inspiring and fun," said Metaxas. "I have a feeling that my partnership with them really was made in heaven."
Each weekly installment of The Eric Metaxas Radio Show on TBN will feature an entertaining and thought-provoking "best-of" roundup of guests from Eric's radio show for the past week — including such notables as actors Gary Sinise and Steven Baldwin, "Duck Commander" Phil Robertson, inspirational speaker Victoria Osteen, bestselling author and pastor Erwin McManus, real estate entrepreneurs and cultural activists Jason and David Benham, Second Lady of the United States Karen Pence, popular pastor and speaker Jentzen Franklin, and others.
TBN President Matt Crouch said the addition of Metaxas brings a unique depth and flair to TBN's programming lineup. "Eric's longstanding reputation as a man of both faith and intellect is a perfect fit for TBN's growing broadcast team of thought and faith leaders," he said. "We're excited to introduce The Eric Metaxas Radio Show to our weekend viewers."
The Eric Metaxas Radio Show premieres May 17th and will air Fridays at 6 p.m. ET / 5 p.m. Central, and again on Sundays at 10:30 p.m. ET / 9:30 p.m. Central — exclusively on TBN and the TBN app. Find out where TBN is airing near you with our channel finder, watch TBN on our livestream HERE, or download our all-new app to view TBN on your Apple or Android devices.
About Eric Metaxas
Eric Metaxas is a #1 New York Times bestselling author, cultural commentator, and host of The Eric Metaxas Radio Show, a two-hour daily nationally syndicated radio program heard in more than 120 cities around the U.S. and via podcast in over 80 countries. The show features in-depth interviews with a wide variety of guests, such as columnists David Brooks, Peggy Noonan, and Jason Gay; actors Tony Shaloub, Patricia Heaton, Andrew Garfield, Richard Dreyfuss, and Joseph Fiennes; sports figures Tony Dungy and Super Bowl MVP Nick Foles; writers Mary Karr, Nathaniel Philbrick, and Odyssey translator Emily Wilson; theologians N.T. Wright and Tim Keller; and singers and songwriters Paul Williams, LeCrae, and Harry Connick, Jr. Among Metaxas' New York Times bestselling books are Martin Luther, Bonhoeffer, If You Can Keep It, Miracles, Amazing Grace, and Seven Men.Additionally, he was a writer for VeggieTales and has penned more than thirty children's books. Find out more at ericmetaxas.com and metaxastalk.com.