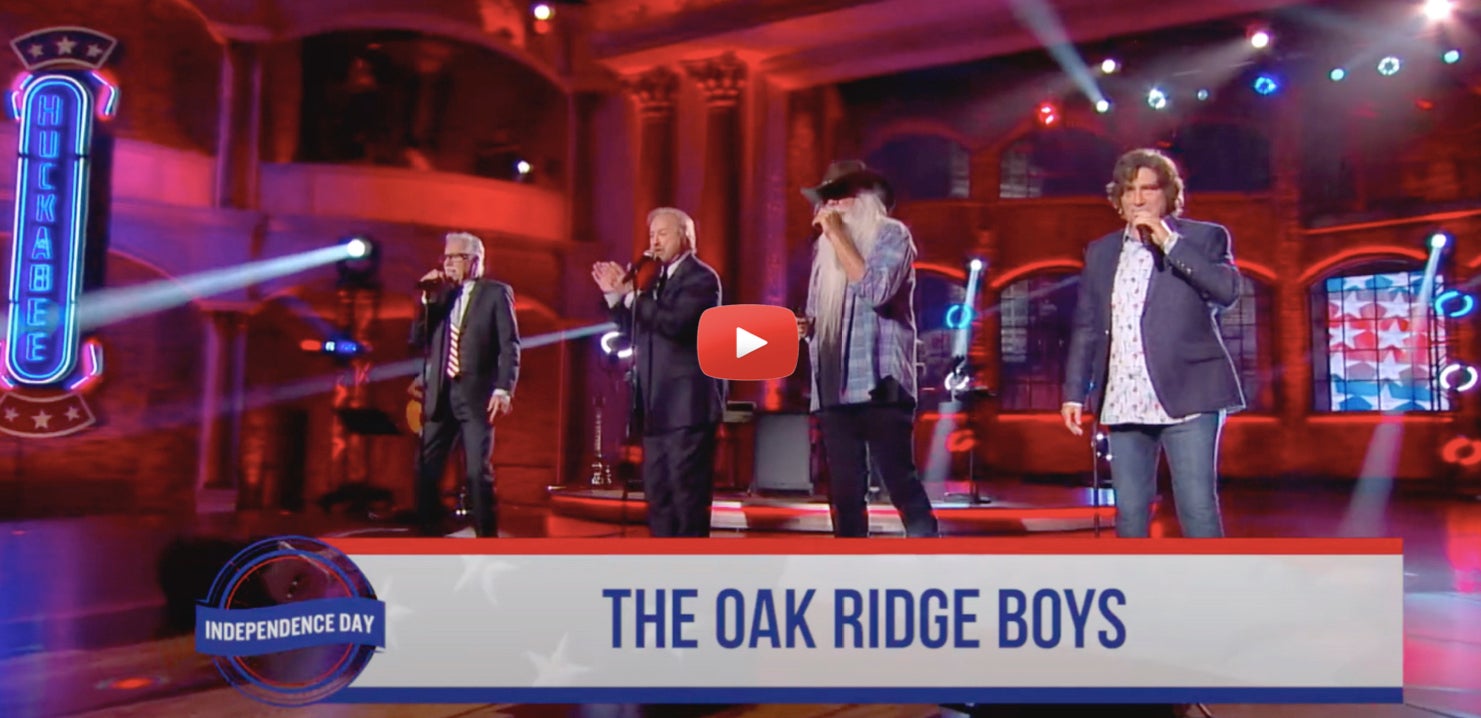 NASHVILLE (July 1, 2020) — Legendary Grammy Award winning country group The Oak Ridge Boys are teaming up with Gov. Mike Huckabee to host TBN's July 4th weekend television special, performing multiple songs and welcoming GMA Dove Award winning contemporary Christian artist Nicole C. Mullen, along with Grammy winning country music legend Lee Greenwood, whose hit song "God Bless the USA" has become an American anthem.
TBN's Independence Weekend Celebration premieres Friday, July 3, all night back-to-back at 8, 9, 10, and 11 p.m. ET, Saturday, July 4th, at 1 p.m. ET / 10 a.m. PT, and Sunday, July 5th, at 11 p.m. ET / 8 p.m. PT.
"We are looking forward to celebrating our country's Independence weekend," said Duane Allen of the Oak Ridge Boys. "The Oak Ridge Boys and Mike Huckabee are co-hosting this special on TBN with very special musical guests!" The "Oaks" Joe Bonsall added that "during these times of virus and unrest, how cool it will be to gather with the Governor and celebrate America on the July 4th weekend."
"This is such a great opportunity to reach out to America on Independence Day," said Lee Greenwood. "Thank you Governor Huckabee, The Oak Ridge Boys, and TBN for allowing me to be on this 4th of July special."
Added Nicole C. Mullen: "The Fourth of July reminds me that freedom is never free. It will always cost someone, somewhere a great price. Another truth I have realized is that sometimes you must celebrate the freedom of others while you press towards your own. Most Americans can trace their liberty back to 1776. As an African-American, mine was granted in 1865. For believers in Christ, the price was paid 2,000 years ago, for the greatest eternal emancipation of all — for all who receive it! This year, let's work towards and celebrate liberty and justice for everyone. He whom the Son sets free is free indeed!"
Don't miss this very special Independence Weekend Celebration with the Oak Ridge Boys, Gov. Mike Huckabee, Lee Greenwood, Nicole C. Mullen, and more, airing July 3-5 — exclusively on TBN. Find out where TBN is airing near you with our channel finder, watch TBN on our livestream HERE, or download our all-new app to view TBN on your Apple or Android devices.
About the Trinity Broadcasting Network
Trinity Broadcasting Network is the world's largest and most watched faith-and-family broadcaster, reaching over 175 nations across the earth with inspirational and entertaining programming 24 hours a day in 14 languages and on 32 global networks. As the world's most influential non-profit religious broadcaster, TBN has led the way in expanding the impact of faith-based television across the earth through the creation of innovative content designed to reach every viewer demographic with the life-changing message of hope and grace. To find out more about the TBN Networks, visit us at tbn.org. And follow us on Facebook, Twitter, and Instagram @tbn.
About the Trinity Broadcasting Network
Trinity Broadcasting Network is the world's largest and most watched faith-and-family broadcaster, reaching over 175 nations across the earth with inspirational and entertaining programming 24 hours a day in 14 languages and on 32 global networks. As the world's most influential non-profit religious broadcaster, TBN has led the way in expanding the impact of faith-based television across the earth through the creation of innovative content designed to reach every viewer demographic with the life-changing message of hope and grace. To find out more about the TBN Networks, visit us at www.tbn.org.
Social Media – Facebook / Twitter: @TBN
About VeggieTales
VeggieTales® is distinguished as the most successful faith-based children's franchise of all time and is a leading animated property in the U.S. with moms of preschoolers.VeggieTales has an incredible franchise history, having sold over 75 million videos, 16 million books, 7 million CDs, and 80 million music streams. VeggieTales enjoyed four seasons as a top-rated series on NBC Saturday mornings, Telemundo, and ION TV via the Qubo children's programming block. The property's two theatrical releases, Jonah-A VeggieTales Movie (2002), and The Pirates Who Don't Do Anything-A VeggieTales Movie (2008), rank as top performing children's films. Currently airing VeggieTales in the House is an Emmy nominated original Netflix series.
Social Media – Facebook / Twitter: @VeggieTales
Instagram: @VeggieTalesOfficial