Orlando's Holy Land Experience Rolls out Two New Theatrical Productions for Summer Season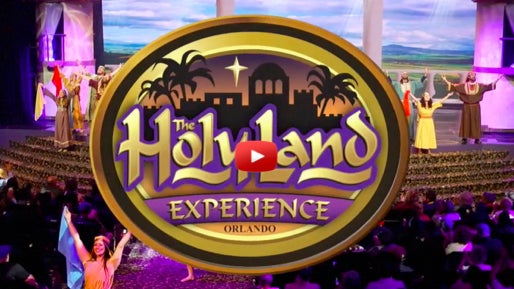 ORLANDO, FLA. (May 11, 2017) — Orlando, Florida's Holy Land Experience, the unique faith-and-family vacation destination where the land of the Bible comes alive, announced the addition of two exciting new original theatrical productions to its 2017 summer lineup.
Manager Mike Everett noted that every summer tens of thousands of individuals and families make their way each week to the entertaining and inspirational theme park to enjoy the award-winning dramas and musicals, along with the park's many unique interactive displays. "Many of our Holy Land Experience guests come from across America and around the world specifically to enjoy the powerfully moving theatrical events produced by our in-house creative team," said Mr. Everett. "And we've added two all-new powerful productions to our other award-winning shows playing daily in our 1,800-seat, state-of-the-art Church of All Nations auditorium."
As with all of the Holy Land Experience productions, the two new shows debuting this summer season feature inspirational and life-changing stories brought to life through original music, vibrant sets and costumes, and talented, award-winning actors. 
Out of Darkness brings an unforgettable and moving account of the New Testament pharisee Nicodemus, who finds himself at a crossroads in life, torn between religion and the life-giving words and actions of the man Jesus. As Jesus heals a blind man at the Feast of Tabernacles, Nicodemus is faced with the reality that this Jesus is, in truth, the Messiah, the Light of the world.
Jesus: The Sacrifice brings to life through drama, action, and original music the trial, suffering, death, and resurrection of Jesus as seen through the eye-witness accounts of Jesus' mother Mary, Mary Magdalene, and the Roman Centurion. Through this unique and life-transforming musical drama, guests will share in the grief and despair felt by Jesus' family and friends as He suffered and died like a common criminal, followed by unspeakable joy as they are brought face-to-face with their risen Lord and Savior. This is certain to become a Holy Land Experience classic and guest favorite.
In addition to these two all-new productions, guests will enjoy a lineup of other popular Holy Land Experience theatrical shows, including: 
– Love Never Fails, the moving Old Testament love story of Ruth and Boaz, whose great grandson would become Israel's greatest earthly king.
– The Prodigal, which recounts with creative passion the story of a lost and broken son whose devoted father welcomes home with loving arms of forgiveness.
– The Lost & Found Agency, a fascinating, interactive show for kids of all ages that follows a colorful team of specialists called upon to help a shepherd find his lost sheep, a young lady locate a valuable missing coin — and a lost young man find his way back home.
Along with the popular theatrical productions, Holy Land Experience features many interactive exhibits, including the Wilderness Tabernacle, the Great Temple, Golgotha and the Garden Tomb, and the world-renowned Scriptorium, a collection of priceless Bible manuscripts, scrolls, biblical antiquities, and artifacts.
And don't forget the Smile of a Child Adventure Land, where the park's younger guests can burn up plenty of energy on the totally safe rock-climbing wall, play an exciting round of mini-golf featuring Bible story characters, have their faces painted, and enjoy an inspirational Bible story.
Each year Florida's beaches, theme parks, and other vacation destinations draw an estimated 75 million people, but no where throughout Florida — or across America — is there anything like the one-of-a-kind wonder that visitors will enjoy at Holy Land Experience. Mike Everett said that he and the rest of the park's team are anticipating a life-changing time for the many thousands of guests who will visit Holy Land Experience over the summer months. "Seeing lives changed and people inspired and blessed is why we exist," he said, "and we're excited to see how God moves."
About Holy Land Experience
Located in the heart of America's most popular vacation spot, Orlando, Florida's Holy Land Experience offers an unforgettable adventure that immerses visitors in the sights, sounds, historical time frames — and impacting truths — of the Bible. With its compelling historical exhibits, realistic re-creations of ancient Israel, and award-winning theatrical productions, Holy Land Experience has become a must-see attraction for individuals, families, and groups from across America and around the world. For more on Holy Land Experience, log on to www.holylandexperience.com.
Media Contact
Colby May
E-Mail: cr@tbn.org
Tel: 972-313-9500