NASHVILLE, Sept. 27, 2021 — TBN, the world's largest religious broadcaster, celebrates the  four-year anniversary of America's favorite "front porch" music and talk show Huckabee on October 2. Hosted by Governor Mike Huckabee, the show is one of the network's most watched programs across all platforms and boasts 140 million views on YouTube. The hour-long program shares uplifting stories highlighting the goodness, faith, and down-home heroics of everyday individuals from across the nation. Along the way Gov. Huckabee offers his legendary take on what's happening in Washington, DC and throughout the heart and soul of America.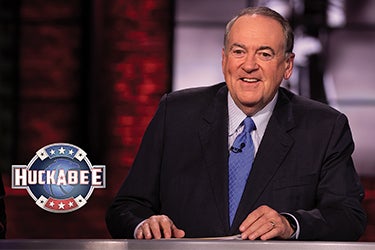 "We couldn't be more excited to celebrate the past four seasons of entertaining and uplifting shows from Gov. Mike and the entire 'Huckabee' team," said TBN president Matt Crouch. "His show is the kind of honest and engaging content people are looking for these days. And knowing Mike, there's a lot more where that came from — stand by!"
Filmed at TBN's famed Trinity Music City in Nashville, TN, the show features national and international newsmakers, iconic celebrities and music legends. Over the course of the show's four-year run, Gov. Huckabee has sat down with notable guests like Former President Donald Trump, Former Vice President Mike Pence, Former Prime Minister of Israel Benjamin Netanyahu, country music legend Dolly Parton, Actors Matthew McConaughey and Dennis Quaid, former talk show host Kathie Lee Gifford and many more.
In celebration of the show's four-year anniversary, various guests and friends will be shown congratulating Gov. Huckabee on this special milestone with a video. The episode will also feature U.S. Rep. Chuck Fleischmann, Sheree Wooten ("Huck's Hero" segment), Magician Steven Brundage, and country singer Jimmy Wayne.
The success of "Huckabee'' has prompted TBN to expand its programming diversity with shows like "The Eric Metaxas Radio Show" along with upcoming shows like "Takeaways with Kirk Cameron" premiering Monday, November 1 at 9pm ET.
For more information on how to watch on TBN, visit: https://watch.tbn.org/huckabee