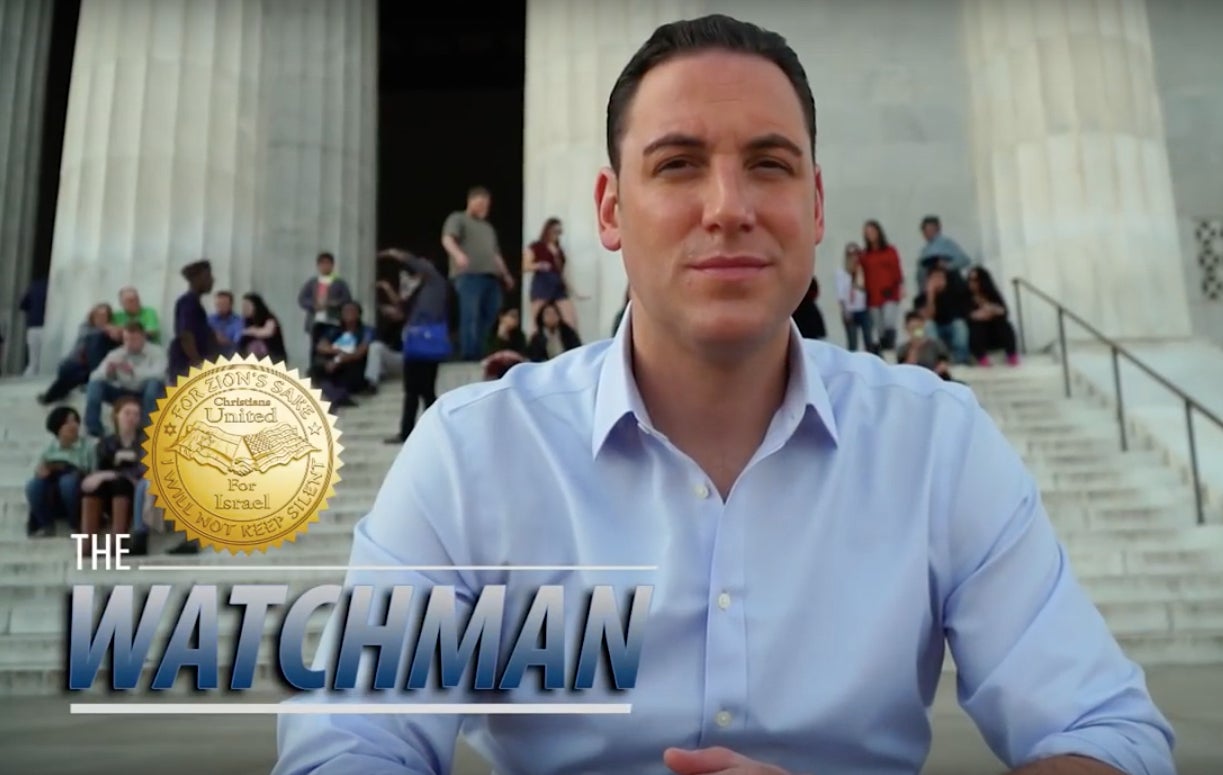 LOS ANGELES (February 17, 2016) — Trinity Broadcasting Network, the world's largest Christian broadcaster, announced that it is teaming up with Christians United for Israel(CUFI), America's largest pro-Israel organization, in an exciting 30-minute program of news and perspective, The Watchman with Erick Stakelbeck, premiering Thursday, February 25th, exclusively on TBN.
Hosted by veteran investigative journalist and Middle East expert Erick Stakelbeck, The Watchman takes a hard-hitting weekly look into the rising security threats facing America, Israel, and the rest of the world, offering crucial commentary, analysis, on-the-ground reporting, and interviews with top U.S. and Israeli experts and decision-makers.
Additionally, the news-magazine style show spotlights the many uplifting and miraculous stories unfolding across Israel, and highlights the important work being done by the nation's leading pro-Israel organization to strengthen the U.S.-Israel relationship while educating, encouraging, and activating Christians to stand with Israel.
Host Erick Stakelbeck has been a regular commentator in such broadcast venues as Fox News, where he's appeared on Hannity, Your World With Neil Cavuto, Fox and Friends, America's Newsroom, and Justice with Judge Jeanine, as well as CBN, CNN and many others. He has also been a contributor and guest host on Glenn Beck's The Blaze TV, providing in-studio analysis and investigative reports, and is the author of three best selling books on radical Islam and the Middle East, including his latest, ISIS Exposed.
Stakelbeck noted that despite the negative portrayal it receives at the hands of the major media, the Jewish state remains a beacon of freedom and sanity in a tyrannical and chaotic Middle East. "Each week on The Watchman, we demonstrate how Israel remains a light unto the nations, while exposing how the radical forces seeking to wipe Israel off the map have also placed a bullseye on the backs of the U.S. and Christians around the world," he said. "Through The Watchman we are effectively changing the media narrative about Israel — and I personally couldn't pick two better organizations to partner with in this endeavor than CUFI and TBN."
Christian leader John Hagee, founder and chairman of CUFI, said: "Now more than ever, it is imperative that Christians stand up and ensure our nation stands with Israel. CUFI was created precisely for such a time as this, and we're excited that The Watchman will ensure we're bringing our pro-Israel message to households across the country."
Matthew Crouch, chairman of the Trinity Broadcasting Network, noted that since its founding over forty years ago, TBN has been a consistent friend and strong supporter of Israel and the Jewish state. "Erick Stakelbeck has a well-deserved reputation for his keen insights on Israel and the Middle East, and The Watchman has become the go-to program supporters of Israel watch each week for important news and perspective," he said. "We're excited to partner with Christians United for Israel to bring this powerful and informative weekly program to our viewers all over the world."
Don't miss The Watchman with Erick Stakelbeck, premiering Thursday, February 25th, at 8:30 p.m. Pacific (10:30 p.m. Central, 11:30 p.m. Eastern), exclusively on the Trinity Broadcasting Network.
About the Trinity Broadcasting Network
Trinity Broadcasting Network is the world's largest and most watched faith-and-family broadcaster, reaching over 175 nations across the earth with inspirational and entertaining programming 24 hours a day in 14 languages and on 32 global networks. As the world's most influential non-profit religious broadcaster, TBN has led the way in expanding the impact of faith-based television across the earth through the creation of innovative content designed to reach every viewer demographic with the life-changing message of hope and grace. To find out more about the TBN Networks, visit us at www.tbn.org.
Social Media – Facebook / Twitter: @TBN