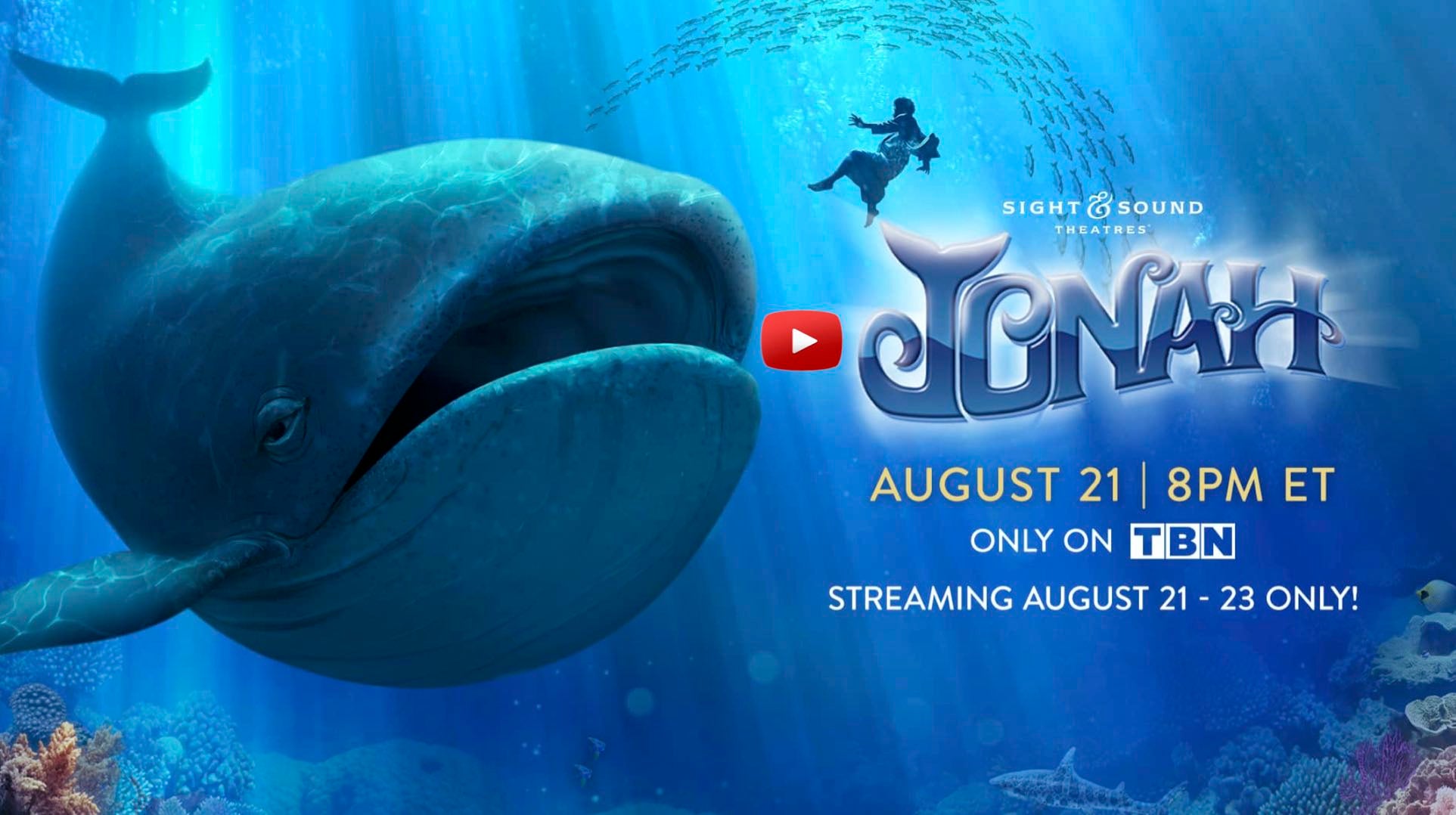 LOS ANGELES (August 20, 2020) — Social distancing measures and restrictions on large gatherings and have made live theater all but impossible in most places, so TBN is bringing the stage to Americans' living rooms. Sight & Sound Theatres' unforgettable theatrical production of JONAH will make its world television debut Friday, August 21, at 8/7 p.m. Central, on TBN, the world's most-watched faith-and-family network.
Filmed in front of a live audience, JONAH has been seen by more than two million people on stage, and is airing on TBN in a one-night-only event.
Based on the well-known Bible story, the fascinating Sight & Sound Theatre production follows the Old Testament prophet Jonah as he runs away from a special assignment God has given him. After a series of wild adventures involving a seaport called Joppa, a huge boat, and a terrible storm, Jonah finds himself in the belly of a giant fish. But that's not the end. It's here that God teaches Jonah how to receive grace and extend mercy — even to his archenemy Nineveh.
Families are invited to experience this state-of-the-art production of JONAH in its special worldwide television debut exclusively on TBN Friday, August 21 at 8 p.m. Eastern / 7 p.m. Central, and on-demand through the TBN app, August 21-23 only. CLICK HERE to download the TBN app for Apple or Android devices.
About TBN
TBN is the world's largest and most watched faith-and-family broadcaster, reaching over 175 nations across the earth with inspirational and entertaining programming 24 hours a day in 14 languages and on 32 global networks. As the world's most influential non-profit religious broadcaster, TBN has led the way in expanding the impact of faith-based television across the earth through the creation of innovative content designed to reach every viewer demographic with the life-changing message of hope and grace. To find out more about the TBN Networks, visit us at tbn.org. And follow us on Facebook, Twitter, and Instagram @tbn.
About Sight & Sound
Sight & Sound® is a ministry on a mission to bring the Bible to life through live theater, television, and film. What started over 40 years ago as a traveling multimedia show has today become a destination for over 25 million people. With two state-of-the-art theaters, over one million people walk through their doors each year from around the world. In 2005, Sight & Sound began filming and releasing productions on DVD. National distribution came in 2017, when shows first appeared in movie theaters across the country, followed by digital releases on iTunes, Amazon, and Hulu. Most recently, Sight & Sound TV was launched, a brand new streaming platform dedicated to bringing the Bible to life beyond the stage.
About the Trinity Broadcasting Network
Trinity Broadcasting Network is the world's largest and most watched faith-and-family broadcaster, reaching over 175 nations across the earth with inspirational and entertaining programming 24 hours a day in 14 languages and on 32 global networks. As the world's most influential non-profit religious broadcaster, TBN has led the way in expanding the impact of faith-based television across the earth through the creation of innovative content designed to reach every viewer demographic with the life-changing message of hope and grace. To find out more about the TBN Networks, visit us at www.tbn.org.
Social Media – Facebook / Twitter: @TBN
About VeggieTales
VeggieTales® is distinguished as the most successful faith-based children's franchise of all time and is a leading animated property in the U.S. with moms of preschoolers.VeggieTales has an incredible franchise history, having sold over 75 million videos, 16 million books, 7 million CDs, and 80 million music streams. VeggieTales enjoyed four seasons as a top-rated series on NBC Saturday mornings, Telemundo, and ION TV via the Qubo children's programming block. The property's two theatrical releases, Jonah-A VeggieTales Movie (2002), and The Pirates Who Don't Do Anything-A VeggieTales Movie (2008), rank as top performing children's films. Currently airing VeggieTales in the House is an Emmy nominated original Netflix series.
Social Media – Facebook / Twitter: @VeggieTales
Instagram: @VeggieTalesOfficial