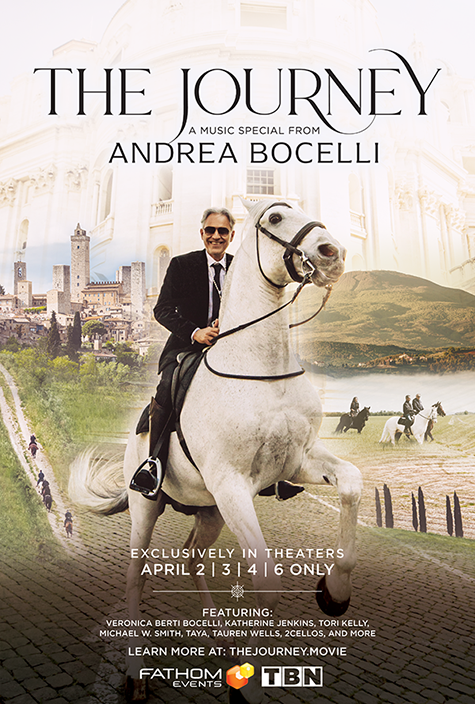 NASHVILLE, Tenn (February 7, 2023) — Trinity Broadcasting Network, Fathom Events, and Impact Productions announce the debut of their new musical documentary, THE JOURNEY: A Music Special from Andrea Bocelli, coming to theaters nationwide for four nights only on April 2-4 and April 6, 2023. THE JOURNEY follows world-renowned tenor Andrea Bocelli and his wife Veronica as they travel through Italy's beautiful terrain on horseback to complete parts of the unforgettable Via Francigena — a historical pilgrimage in which Christians journey to Rome to worship at grand cathedrals and visit the burial sites of revered saints and apostles.
Tickets can be purchased online at Fathom Events. A complete list of theater locations is available at the Fathom Events website (participating theaters are subject to change). Watch the trailer here: TheJourney.movie.
Combining world-class musical performances with intimate conversations across the awe-inspiring Italian countryside, THE JOURNEY: A Music Special from Andrea Bocelli is an exploration of the moments that define us, the songs that inspire us, and the relationships that connect us to what matters most. You'll be swept away by THE JOURNEY of beautiful music, creation, faith, and love.
Also featuring a blessing by Pope Francis, and musical performances by Michael W. Smith, 2CELLOS, Tori Kelly, Clara Barbier Serrano, Tauren Wells, TAYA, Matteo Bocelli, 40 Fingers, and Katherine Jenkins, THE JOURNEY will inspire audiences with powerful performances and spectacular scenery.
"We are so excited to be bringing THE JOURNEY to theaters across the country," said TBN president Matt Crouch. "This was such a life-changing documentary to film and I hope it will reignite the faith and passion of audiences as we bring Via Francigena to their hometowns."
"Andrea Bocelli is a masterful tenor and his voice, combined with the beautiful footage and music in THE JOURNEY make for an incredible event," said Ray Nutt, CEO of Fathom Events. "This documentary of Andrea's faith-filled pilgrimage will be an incredible addition to theaters this Easter holiday."
For more information, visit TheJourney.movie.
About Trinity Broadcasting Network
Trinity Broadcasting Network is the world's largest and most watched faith-and-family broadcaster, reaching over 175 nations across the earth with inspirational and entertaining programming 24 hours a day in 17 languages and on over 30 global networks. As the world's most influential non-profit religious broadcaster, TBN has led the way in expanding the impact of faith-based television across the earth through the creation of innovative content designed to reach every viewer demographic with the life-changing message of hope and grace. To find out more about the TBN Networks, visit us at tbn.org.
About Fathom Events
Fathom is a recognized leader in the entertainment industry as one of the top distributors of content to movie theaters in North America. Owned by AMC Entertainment Inc. (NYSE: AMC); Cinemark Holdings, Inc. (NYSE: CNK); and Regal, a subsidiary of the Cineworld Group (LSE: CINE.L). Fathom operates the largest cinema distribution network, delivering a wide variety of programming and experiences to cinema audiences in all the top U.S. markets and to more than 45 countries. For more information, visit www.FathomEvents.com.
About Impact Productions
Impact Productions has built a reputation for unifying inspiring messages with captivating entertainment. Over the last two decades, Impact has partnered with TBN to produce hundreds of hours of inspirational programming, collaborating with top faith leaders like Joel Osteen, Steven Furtick, Joyce Meyer, and T.D. Jakes. Impact's team of storytellers has created content for NBCUniversal, Harper Collins, Sony Pictures, Disney+, and more. Impact creatives have overseen the creation of an extensive catalog of content for brands like VeggieTales, MikeRoweWorks, and singer Andrea Bocelli.