TBN's JUCE TV Broadcasting Groundbreaking Azusa Now Worship and Prayer Gathering Live From LA Memorial Coliseum Saturday April 9th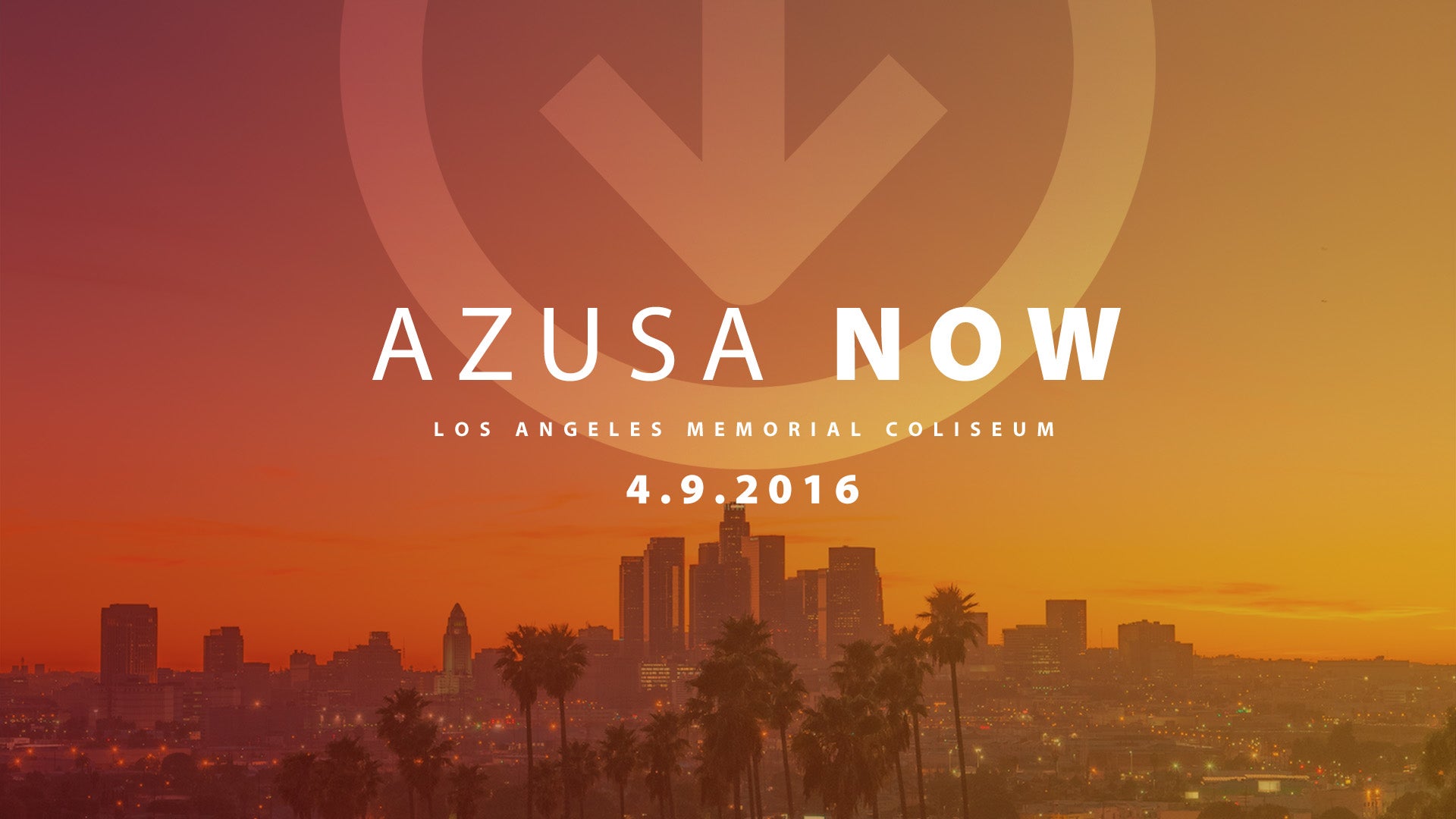 LOS ANGELES (April 6, 2016) — For generations of Christians around the world April 9, 1906 was a significant date in history. On that day in Los Angeles God moved in a powerful way on a small group of believers praying for more of His presence in their lives. That simple, humble beginning — marked by a sense of unity, powerful manifestations of God's presence, and a mighty harvest of souls for Christ — would become known globally as the Azusa Street Revival. And over the past century since that day, hundreds of millions of individuals across the earth have been impacted for eternity as a result of this historic move of God.
On Saturday April 9, 2016, 110 years to the day after the beginning of the Azusa Street Revival, over 110,000 people will pack the Los Angeles Memorial Coliseum for Azusa Now, a special day of worship and prayer bringing together believers from diverse ethnicities, backgrounds, denominations, and traditions to seek God for a renewed move of His Spirit. And JUCE TV, the premier faith and lifestyle network for teens and young adults, will be on hand to broadcast the event live from 4 p.m. to 7 p.m. (Pacific Time), featuring the ministry and worship of Bethel Music from Redding, California.
JUCE TV network manager Mark McCallie noted that while the Los Angeles Memorial Coliseum has hosted such important events as the Olympics, the World Series, and the Super Bowl, "the last time this venue was filled to over capacity was for the historic Billy Graham Crusade on September 8, 1963. Over fifty years later Azusa Now will bring a capacity crowd to the Coliseum to raise their collective voices in prayer for God to bring revival and unity to our nation once again. JUCE TV is honored to bring this important prayer and worship event to millions of viewers around the world."
Azusa Now organizers recalled that the 1906 groundbreaking Azusa Street Revival was built on three key factors: "First there was a multi-ethnic gathering of unity in Christ (Acts 2:1-11). Secondly, the miraculous, attesting ministry of the Holy Spirit was enjoyed in a unique way (Acts 2:2-4). Finally, there was a clear presentation of the Gospel leading many to salvation (Acts 2:37-41)."
One hundred ten years later, Azusa Now is being organized with the deep conviction that God desires to move with the same power and purpose today. "We need a true jubilee of love and mercy to sweep our land," declared the event organizers. "A dark question looms over our children's future: riots or revival? The only answer is to be found in Christ. Prayer, love, and unity remain the Acts 2 template for breakthrough."
Rachel Holden of The Call, the key group organizing Azusa Now, emphasized that one of the main goals of the event "is to begin to repair the pain, wounds, and division among different nationalities, denominations, and backgrounds throughout the body of Christ. We want to humbly learn to bless our differences while joining together for worship and the proclamation of the Gospel. Our daring hope for Azusa Now is that the body of Christ would begin, even in a small way, to fulfill the great prayer of Jesus in John 17, to make us one as He is one."
Tune in to JUCE TV on Saturday, April 9th, at 4 p.m. Pacific (6 p.m. Central, 7 p.m. Eastern) for a three-hour special presentation live from Azusa Now, featuring the ministry and worship of Bethel Music. JUCE TV is carried nationally on AT&T U-verse (Channel 570) and Dish Network (Channel 264), as well as on hundreds of local and regional cable systems (CHECK HERE for JUCE TV in your area). You can also view the event online at www.jucetv.com.
Media Contact
Colby May
E-Mail: cr@tbn.org
Tel: 972-313-9500