Donate
Strong by Christine Caine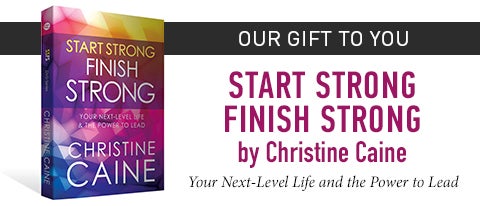 Experience Next-Level Living and Enhanced Leadership Capabilities!
You want to lead—and you want to excel while rooted in the grace of God. It's time to seek the next level and shake off the shame holding you back. In Start Strong, Finish Strong Christine shares that you are an expression of who God is, and the world needs what's inside of you. Prepare to unleash your spiritual giftedness and full potential through 7 inspiring video messages:
There's Something About Mary.
One More Night with the Frogs.
Highly Unlikely.
Check Your Settings.
It's a Process.
Press On.
We Are Well Able.
For your gift to TBN, we'll send you Start Strong, Finish Strong to thank you for your willingness to give to support the preaching of the Gospel.
Please use the form to submit your donation to TBN. Your copy of Start Strong, Finish Strong will be sent to you. Thank you for helping to fulfill the Great Commission!
Donate Now!
Your donation
Amount:
Type of Donation:
Ministry:
Ministry Resource:
Edit
Credit / Debit Card
Bank Account
Edit