Donate
Swipe Right by Levi Lusko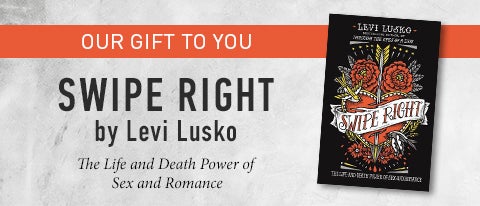 God Wants You to Have an Amazing Marriage!
There is nothing more powerful on earth than the forces of love, sex, and romance. In fact, relationships are a matter of life–and–death importance. In Swipe Right: The Life and Death Power of Sex and Romance, Levi Lusko shares with raw honesty from his own life experiences and God's Word how to:
Regret–proof your marriage bed
Resist settling for instant pleasure by discovering what your heart really longs for
Learn how to avoid and treat sexual scars by careful living today
Turn the clumsy "sex talk" with your child into dialogue that leads to wise choices
Transform a stagnant marriage with mind–blowing intimacy
God's dreams for your life are not intended to kill your joy but to enhance it. Whether you're fed up with dating, tired of being single, numb because of the world's view on sensuality and sex, or curious about how to improve your marriage, this book is for you.
For your gift to TBN, you'll receive Levi Lusko's Swipe Right as our thank you for your support of TBN's broadcasting of the gospel.
Please use the form to submit your donation to TBN. Your copy of Swipe Right will be sent to you soon. Thank you for your help in building the kingdom of God!
Donate Today!
Your donation
Amount:
Type of Donation:
Ministry:
Ministry Resource:
Edit
Credit / Debit Card
Bank Account
Edit