Donate
Take A Risk by Christine Caine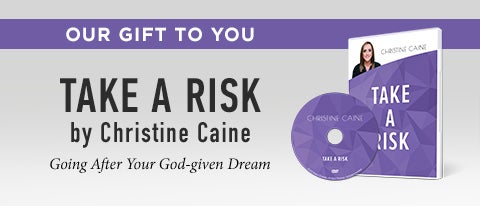 Some of the greatest rewards you'll ever experience in life are on the other side of taking a risk…
You have a dream in your heart. It's a strong inner leading from God you desire to see manifest. Yet, it's going to require stepping out of your comfort zone and facing fear. Christine Caine's latest 2-part DVD series, Take a Risk, reveals her personal story and how her struggles became the turning point for living her dream. You'll learn:
Why life's greatest rewards lie on the other side of embracing risk
How to face the fear that's holding you back
Keys for using your struggle as your launching pad
For your gift of any amount: TBN wants to send you Take a Risk to show you God is already planning to do exceedingly and abundantly above what you can see with your own eyes, if you're ready to move forward in faith!
Your generosity allows people all around the globe to hear about the grace of the Lord Jesus. Please use the form to submit your donation. And we'll send you Christine's newest series with our sincere thanks!
Donate now!
Your donation
Amount:
Type of Donation:
Ministry:
Ministry Resource:
Edit
Credit / Debit Card
Bank Account
Edit