Donate
Think Better Live Better by Joel Osteen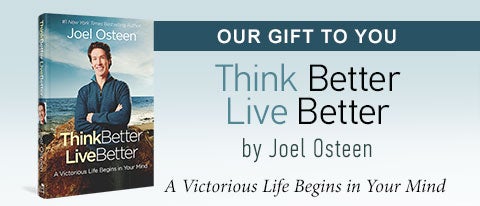 Remove Negativity from Your Thoughts – and Live Blessed!
Your mind can dictate your success or failure ... but many people struggle with being able to change their thought life once and for all.
Joel Osteen's new book, Think Better Live Better, offers a simple yet life-changing strategy for erasing the thoughts that keep you down and shows you how you can reprogram your mind with positive thinking to reach a new level of victory. Start thinking about yourself the way God does and delete the thoughts that tear you down today!
You'll receive this new book as our Thank You for your gift of ANY amount in support of the work of TBN's worldwide broadcasting.
Please use the form to submit your donation of any amount to TBN.
Think Better Live Better will be sent to you with our gratitude for standing with us to share the light of Christ in a dark world!
Donate Today!
Your donation
Amount:
Type of Donation:
Ministry:
Ministry Resource:
Edit
Credit / Debit Card
Bank Account
Edit