Donate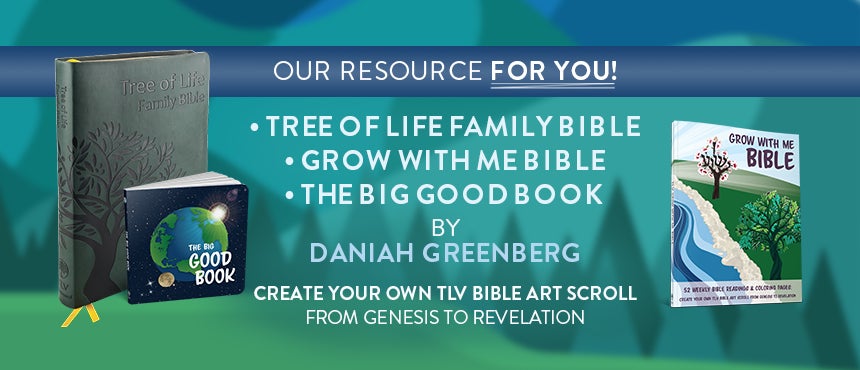 Help Your Family Experience the Hebrew Roots of Your Christian Faith!
Daniah Greenberg's Tree of Life Version Bible (TLV) is an authentic Jewish translation that allows you and your family to experience the wonder of Scripture with the fullness of the original Hebrew meaning intact. The Tree of Life Family Bible includes the entire TLV from Genesis to Revelation, along with introductions to all 66 books; a glossary of Hebrew terms; the complete Parashot — the Jewish reading cycle; a collection of ancient Jewish prayers and blessings; messianic prophecy footnotes; and much more!
In addition to the Tree of Life Family Bible, for your gift of $95 or more, you'll receive two more TLV family resources —
– The Grow With Me Bible, a year-long collection of TLV Bible verses, story by story from Genesis to Revelation, specially selected for children and families. Each story includes a creative page for children and parents or grandparents to color together.
– The Good Book, a unique TLV family resource designed to help create a sacred space for parents and children. Together families can experience the presence of God with one another through the unique artwork and storytelling in the ten easy-to-understand pages of the Good Book.
Please use the form to submit your donation, and we will send these resources as our thank you for your valuable partnership in helping TBN take God's message of hope and grace around the world.
Your donation
Amount:
Type of Donation:
Ministry:
Ministry Resource:
Edit
Credit / Debit Card
Bank Account
Edit