Donate
Unashamed by Christine Caine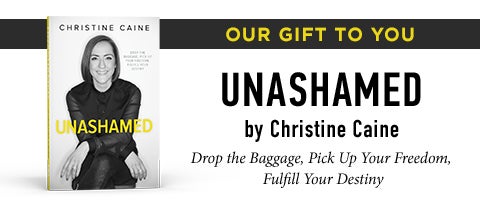 Drop the Baggage, Pick Up Your Freedom and Fulfill Your Destiny!
Shame is an enemy that wants to keep you bound and hinder you from experiencing the freedom Jesus died for you to have. People from every walk of life will experience its sting at some point in their life. God wants this enemy to be exposed and eradicated from your life.
Christine Caine's eye-opening book, Unashamed, will show you it's possible to walk free from shame and all its hidden effects. You'll discover:
How to protect your heart from shame's entrance
Ways to recognize and overcome its hidden consequences
How God is bigger than your mistakes and inadequacies
For your gift: TBN wants to bless you with Christine Caine's book Unashamed. Deal with yesterday's failures today and move into the fullness of what God has for your present and future!
When you support TBN's ministry, we'll send you Unashamed as our "Thank You" for your helping to reach people all around the world with the message of hope and grace. Please use the form to submit your donation. Your gift will be sent to you soon. Thank you!
Donate now!
Your donation
Amount:
Type of Donation:
Ministry:
Ministry Resource:
Edit
Credit / Debit Card
Bank Account
Edit