Donate
A Better Way to Pray by Andrew Wommack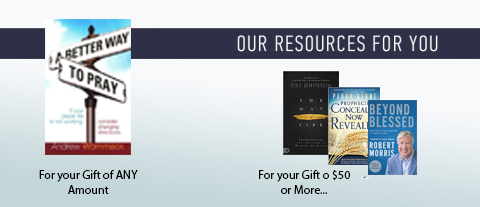 Pray With Confidence — Here's How!
In A Better Way to Pray, Pastor Andrew Wommack shares important truths about prayer, and shows how you can come boldly to God and expect answers to all you are asking.
In addition to A Better Way to Pray, for your gift of $50 or more you'll receive these three life-transforming books —
In The Way of Life, Pastor Bill Johnson reveals the keys for experiencing the miracles and breakthroughs that bring heaven to earth around you.
In Beyond Blessed, Pastor Robert Morris offers clear and practical steps that will empower you to live free from financial stress.
In Prophecies Concealed Now Revealed, Perry Stone takes you deep into the truths God has concealed in prophetic feasts and His divine calendar.

 
Please use the form to submit your donation, and we will send these resources as our thank you for your valuable partnership in helping TBN take God's message of hope and grace around the world.
Your donation
Amount:
Type of Donation:
Ministry:
Ministry Resource:
Edit
Credit / Debit Card
Bank Account
Edit