In the nearly fifty years since TBN first went on the air in 1973, the face of what my parents' generation called the "miracle" of television has changed dramatically. Back then the average home in America had a single TV set in the living room — a massive piece of decorative furniture called a "console" that received three or four channels you got up to change by hand. Most evenings you could find families gathered around the TV for the news, followed by some good old-fashioned entertainment — westerns, police dramas, mostly wholesome comedies, and a few variety shows.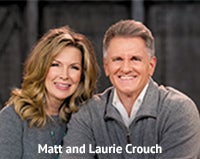 Thanks to rapidly changing technology, today's television landscape is a bit different, to say the least. Flat-screen TVs hang on walls throughout the typical American home, and every member of the family has access to a virtually unlimited selection of both live programming and on-demand content anytime and anywhere they happen to be, via smart phones, tablets, computers, and other digital devices. 
What hasn't changed — for us here at TBN — is the "miracle" part. We still consider it truly miraculous every time a heart and life is transformed by the hope and grace of Jesus through the content we broadcast around the world. As for cutting-edge technology, that has been at the very core of how we've reached individuals and families with the love of Jesus right from TBN's early years. And it's still front and center in how we're taking God's love around the globe today. 
I can still remember the incredible vision of TBN's future that God gave my dad, TBN founder Paul Crouch, way back in 1975, when our network consisted of a single station reaching a few thousand people across Southern California. One autumn afternoon, as my dad was praying about how to expand TBN's reach across America and beyond, God gave him a glimpse into TBN's future in the form of a vision of a giant map of the U.S. stretching across him overhead. From high above the transparent map an intense glow shot out beams of light to outline the entire U.S. and target coastal cities like Los Angeles, Miami, New York, Seattle, and other major communities. Before long, the entire map was bathed in an intricate network of beautiful lights, coast-to-coast. As my dad pondered the meaning of this awe-inspiring picture, God responded with one resounding word spoken deep within my father's heart — Satellite!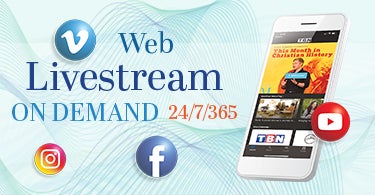 Fast forward five decades, and untold millions of individuals and families are experiencing the message of salvation and healing through Jesus via satellite, as well as cable and good, old-fashioned over-the-air TV. But in our present era of rapidly expanding technology, billions more people across the earth now have instantaneous access to the good news of Jesus through social platforms like Facebook, Twitter, and Instagram where we tailor TBN content for specific viewer groups and specialized messages of hope and inspiration. 
Another of TBN's rapidly growing content platforms is YouTube, which has quickly become one of the most used digital viewing options for people all over the world. Each day TBN, along with our many international networks and affiliates, upload relevant and compelling content sculpted specifically to engage viewers with the life-changing truth of the gospel. Miraculously, many of TBN's short, focused YouTube videos are going "viral," exploding across the digital media and impacting millions with the message of Jesus' love and life-transforming power.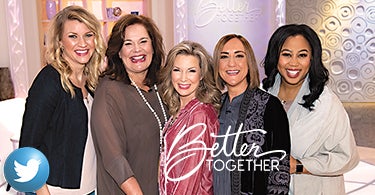 That's also happening with TBN's exclusive viewing app, which gives viewers access to multiple live TBN networks along with a wealth of on-demand content via iPhones, iPads, and Android devices, as well as through Roku, Fire TV, Chromecast, Pluto, Xumo, Amazon Prime, and other popular viewing platforms. We've been excited to watch as the number of individuals downloading TBN's powerful, easy-to-use viewing app has skyrocketed to over two million in the past several months alone! 
Over the years a scripture we have embraced as we witness the miracle of TBN's continued expansion across the earth is Habakkuk 2:14: "For the earth will be filled with the knowledge of the glory of the Lord, as the waters cover the sea." 
That is exactly what is happening through your prayer and partnership in the global outreach of TBN. As we utilize every tool and technology available to us, the message of salvation and hope through Jesus Christ is flooding across the entire earth like an unstoppable tidal wave, bringing His love and healing to individuals, families, communities, and entire nations.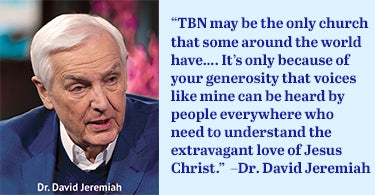 Recently our friend and broadcast partner, Dr. David Jeremiah, reflected on how TBN and individuals like you have helped his and other ministries extend their influence to the nations. "TBN may be the only church that some around the world have," Dr. Jeremiah emphasized, adding that "it's only because of your generosity that voices like mine can be heard by people everywhere who need to understand the extravagant love of Jesus Christ." 
That is the truth, dear friend. Your partnership with TBN is crucial, as together we labor to cover the earth with the love of Jesus. Thank you for standing with us. Eternity alone will reveal the fruit of your faithfulness. 
Our love and prayers for you, 
Matt and Laurie Crouch