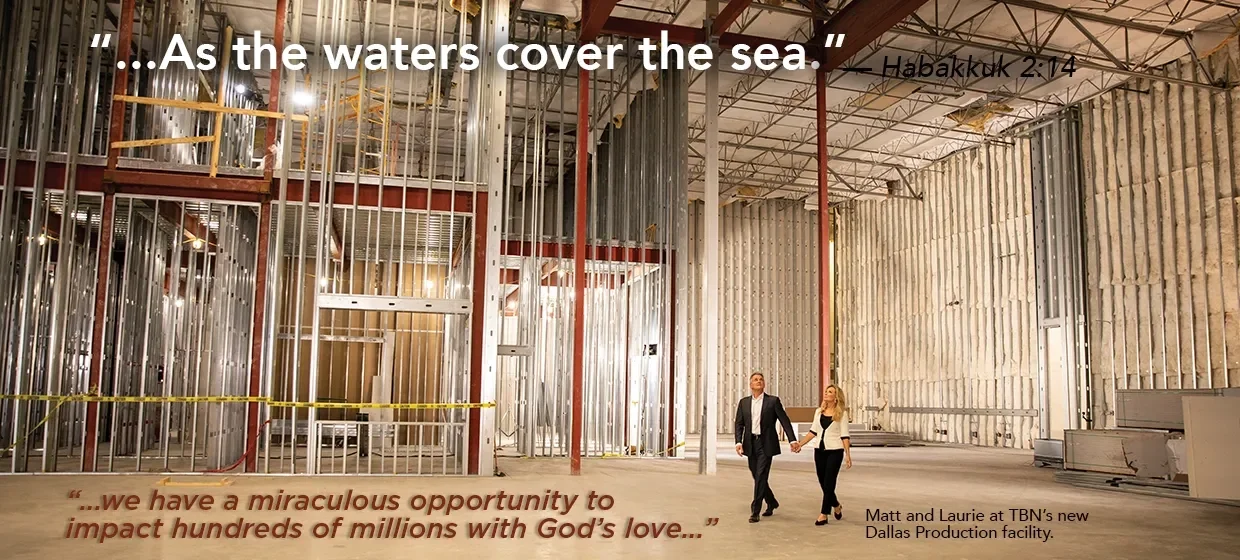 The scripture and photo above have a special connection to Laurie and me — and you are an integral part of it all. Stay with me and I'll explain.
This photo was taken a few months ago as Laurie and I walked through TBN's new production studios under construction in Dallas, Texas. It is one of a handful of such facilities that TBN is developing in strategic locations around the world. Each new or upgraded facility is specifically designed to create cutting-edge content that clearly communicates the love of Jesus for people everywhere.
As Laurie and I took a closer look at the progress of the studios, including sound stages, editing rooms, and more taking shape at the new Dallas facility, it occurred to us that we no longer have the two-pronged dilemma my dad struggled with. He knew that if he invested in "lights, camera, action" to create meaningful content it would be to the detriment of expanding TBN's reach, building out towers, antennas, stations, and paying for cable and satellite contracts.
Thank God that dilemma is over.
Today the singular focus is state-of-the-art production facilities to create a non-stop supply of life-changing content to fill the far-reaching distribution system built by my parents and TBN's founding generation of partners. And when you factor in the staggering, global online "broadcast platform" called the Internet reaching every smart phone and electronic screen on earth, we have a miraculous opportunity to impact hundreds of millions with God's love in a way my parents couldn't have dreamed of!
It's simply imperative now that we produce programming with a spirit of excellence that can effectively compete for the hearts and minds of all ages. As a vital part of today's generation of TBN friends and partners, that's where you come in. With new production facilities in Dallas, Poland, Italy, South Africa, and Israel, we have an unprecedented opportunity to be right in the middle of the fulfillment of the prophet Habakkuk's declaration: "For the earth shall be filled with the knowledge of the glory of the Lord, as the waters cover the sea."
We are humbled to know that this mass communications vision to reach the lost and strengthen the body of Christ is only possible through your ongoing partnership. Together we're poised as never before to cast a wide net and cover the earth with the message of salvation, healing, and hope through Jesus!
Matt and Laurie Crouch

INFO
Author
Published:
Jul 01, 2023 at 04:00 AM