ENDURANCE Hebrews 12: 1-2 | Running the Race with Confidence.
As we step into a new year, I think it's safe to say that all of us are more than ready to put the upheaval and uncertainty of the past year firmly behind us. But how do we do that? From the global COVID pandemic and the social unrest that swept across America, to a national election marked by conflict and hostility, 2020 was a year that will be difficult to forget. How can we let go of the negative emotions of these past months, while fully embracing the good things God has done within us during this time? Most importantly, how can we set our attention, passion, and purpose on the future, and what God has for us in the season ahead?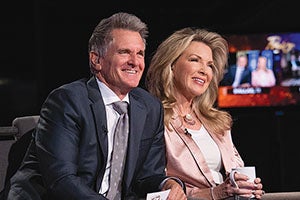 Here at TBN the focus continues to be bringing viewers everywhere the kind of God-focused encouragement we all need to thrive in today's increasingly uncertain world. As Laurie and I have been reflecting on the year just ended and praying about the year ahead, God has especially highlighted the message of Hebrews 12: 1-2: "... let us run with endurance the race that is set before us, looking unto Jesus, the author and finisher of our faith …."
The writer of Hebrews makes it clear that we are in a lifelong "race" through which God is guiding us with His perfect leadership. That includes not just the mountaintops, as my father, TBN founder Paul Crouch, called the times of blessing our heavenly Father gives us in abundance. It also means walking through what my dad called the deep valleys, where direction sometimes seems uncertain, and we are beset by hardships that can feel overwhelming.
Those are the times when we have to remind ourselves that Jesus has already completed all that is required for us to move ahead victoriously — to "run with endurance the race that is set before us." Jesus made it clear that in this world, as His followers, we will face difficulties of all kinds. But, he added, "be of good cheer, I have overcome the world" (John 16:33).
"... we are in a lifelong 'race' through which God is guiding us with His perfect leadership."
When I think of that scriptural analogy of running a race with endurance, it brings to my mind a very special moment from the 1992 Olympics in Barcelona, Spain. Derek Redmond, a runner representing the United Kingdom, was a favorite to win the gold medal in the 400 meter sprint. He had sailed through all his preliminary races with victories and was well on his way to winning the semifinal, when, before a worldwide television audience, he suffered a torn hamstring and fell to the ground in agony. As the rest of the runners raced on to the finish line, Derek laid there for a moment, then slowly struggled to his feet and began limping ahead, determined to complete the race for his nation. But as he stumbled along in excruciating pain and incredible disappointment, suddenly from out of the stands Derek's father, Jim Redmond, raced on to the track, pushed past Olympic security, and took his place by his son's side, holding him up while he fought through pain and tears to the finish line, whispering to Derek, "Let's finish this together."
As followers of Christ every one of us will face times in life when circumstances appear to be the opposite of what God's Word promises. During those times it's natural to entertain negative emotions like bitterness, resentment, regret, worry, and doubt. But God created us for a lifetime of trusting Him — of endurance and confidence. Through it all He is whispering: "Let's finish this together."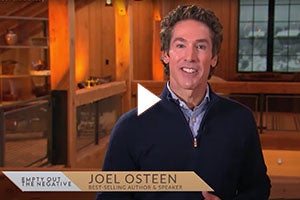 In his new book Empty Out the Negative, our good friend, Pastor Joel Osteen, puts it this way: "The apostle Paul says, 'Thanks be to God who always causes us to triumph.' He didn't say some of the time, or most of the time; he said always, all of the time. It may be tough now, but keep the right perspective. Victory is in your future. Healing is in your future, abundance is in your future, and freedom is in your future. The giants may be big, but our God is bigger. The obstacle may be high, but our God is the Most High."
That's the message we want our viewers to hear, to see, and to experience each and every day they tune in to TBN: God is bigger and higher than our past, our problems, and all obstacles and intrusions into our lives. His care encompasses every facet of our world, and He is ready to lead us into the fullness of all He created us to be.
I am certain that this is a key message for here and now — and it is what we will continue to emphasize throughout the year ahead. The most exciting news is that through the prayer and financial stewardship of friends and partners just like you, more individuals, families, and communities than ever before are finding God's love because of TBN. Across the U.S., Latin America, Europe, Africa, the Middle East, and Asia — through more than thirty networks covering every inhabited continent — TBN is reaching untold millions of hearts and homes with the message of hope and grace through Jesus.
We can never adequately express our thanks for your commitment to stand with TBN as we take the message of the gospel to every corner of the earth. May God bless you in the year ahead as together we partner in this epic gospel outreach.
All our love to you,
Matt and Laurie
INFO
Author
Published:
Jan 01, 2021 at 08:00 AM