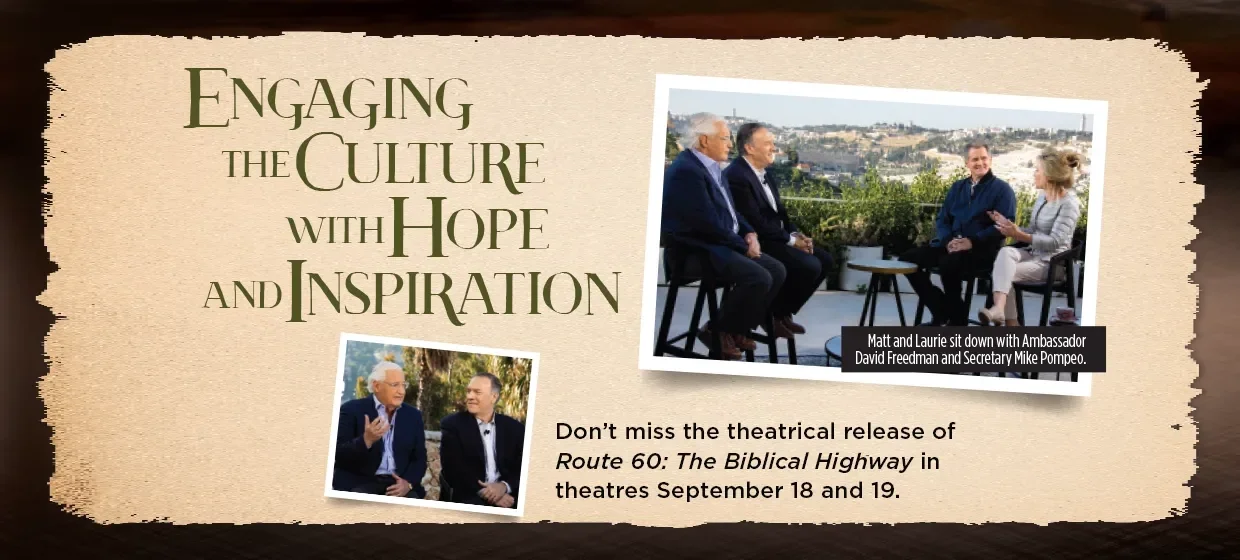 Over the past several months we've witnessed a succession of excellent faith-centered films hit theaters across America. It began in February with the release of Jesus Revolution and its dramatic depiction of the real-life spiritual revival among California's 1970s youth culture.
In April TBN followed up with our own inspiring documentary, The Journey: A Music Special From Andrea Bocelli, which premiered in over one thousand theaters during Easter week. And throughout July Sound of Freedom with Jim Caviezel played in theaters across the nation, telling the riveting true story of one man's mission to rescue children from the evils of sex trafficking. Together these faith-focused pictures impacted millions of moviegoers throughout the nation with a message of hope and redemption.
Watching this rich tapestry of well-produced cinema unfold across the cultural landscape, Laurie and I were reminded of a word God spoke to us years ago when we moved to Hollywood for the purpose of making entertaining and God-honoring faith-and-family movies. As we began our uphill mission to influence this almost entirely secularized industry, God gave us an unmistakable commission. "Take My Name where it is dim and unheard," He clearly directed us, "and make it famous." He promised that as we did so, He would make an entrance into the hearts of the ungodly and those in need of salvation — without them even knowing it. These many years later, that God-breathed promise continues to guide everything we put our hands and hearts to do through TBN.
All this leads us to the next powerful theatrical release of 2023, TBN's own, Route 60 takes viewers on a journey through Israel for an unforgettable look at the land of the Bible as it's never been shown before.
Here is where your prayer and partnership are so important. We are asking you and all of our other good friends to join TBN in our mission to engage today's culture with redemptive and God-honoring media by 1) praying for the impact of Route 60 as it plays in hundreds of theaters throughout our nation; 2) purchasing tickets at Route60.movie for one or more showings of Route 60 in your local theater; and 3) taking as many friends and loved ones as possible to see this powerful Israel-honoring documentary — especially those who need to be touched by the message of God's love.
Laurie and I are more convinced than ever that God has positioned TBN "for such a time as this" — and your role is crucial! Through the strategic prayer and support of individuals like you, we can touch generations with the love of Christ at one of the most pivotal hours in history. Together we'll do it!
Thank you, dear friend, for joining with TBN in this epic outreach of His hope and grace.
We love you,
Matt and Laurie Crouch