Matt and Laurie sit down with Pastor Robert and Debbie Morris to explore the Seven Words of Christmas.
As you open this TBN partner update, like countless other individuals and families your thoughts are no doubt beginning to turn toward the Thanksgiving and holiday seasons before us. Regardless of any uncertainties we may have faced these past months, there is something about this time of year, rich in tradition and the warmth of special moments spent with family and friends, that fills our hearts with gratitude.
Of course, there is no shortage of blessings for which each of us can be thankful. Given the turmoil many are facing across the earth, the fact that we live in relative peace, along with an abundance for nearly every need, ought to make thanksgiving an intentional action item in our daily lives.
In case we need convincing, Scripture is filled with God's own thoughts about the importance of keeping gratefulness in our hearts and on our lips. For example, Psalm 95:2 commands us to "come before His presence with thanksgiving." Similarly, in 1 Thessalonians 5:18 Paul exhorts us to be thankful in every season and circumstance we find ourselves, "for this is the will of God in Christ Jesus for you."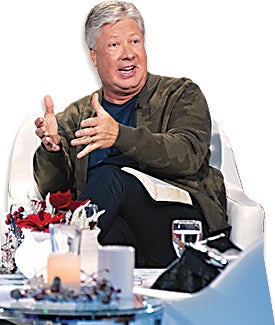 And two of the best reasons ever for us to be thankful are found in 1 Chronicles 16:34: "Oh, give thanks to the Lord, for He is good! For His mercy endures forever." Could there be any better reason for us to give thanks to God than His goodness and mercy focused directly on each of us individually?
In Romans 5:6, the apostle Paul puts it this way: "... at just the right time, when we were still powerless, Christ died for the ungodly." God's mercy in action is the very foundation of the Christmas season we celebrate. In our stumbling, our weakness, our sin, God's goodness and mercy came down to us in the person of His only Son, Jesus.
Speaking of Christmas, our good friend, Pastor Robert Morris, has penned a special gift book, entitled Seven Words of Christmas, that beautifully develops seven powerful themes at the very foundation of the mercy God extends to us through Jesus.
Writes Pastor Robert: "Several years ago, when I began to study the 'Christmas story' as told in the opening chapters of Matthew and Luke, I discovered that God delivered seven key prophetic words around the birth of His Son.... Seven times God spoke through someone in connection with the birth of His beloved Son. Don't you think we should give an ear to those words? Don't you think we might find some wisdom, some encouragement, some comfort, or some direction in them?"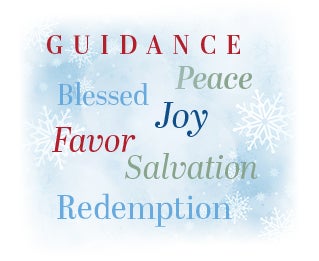 He continues: "Salvation, Favor, Blessed, Guidance, Joy, Redemption, and Peace. These are good words. Words that describe things that you would love to have a  greater abundance of in your life and home. These are the Seven Words of Christmas."c
"God's mercy in action is the very foundation of the Christmas season we celebrate." — Matt Crouch
Recently, Laurie and I sat down with Pastor Robert and his wife Debbie to talk about the significance of these seven words, and how the Christmas story — the story of Jesus — makes them powerful and personal in our lives today. As we kick off this year's holiday season at TBN, this is a perfect program to begin with, and one we think you'll want to share with family and friends.
That's why your TBN is on the air — to reach people everywhere with this greatest story ever, of Jesus coming to earth to give us the power to become part of God's forever family. What makes it even more special is that, through your prayer and partnership, you are an integral part of that redemption story in the lives of the many individuals who say yes to Jesus because of the global outreach of TBN.
That's right! Your commitment to stand with TBN makes all the difference in the lives touched and transformed across the earth. Thank you, dear friend, for joining in this epic outreach of God's love and mercy to the nations.
May God richly bless you and yours this holiday season.
Matt and Laurie Crouch
INFO
Author
Published:
Nov 01, 2021 at 04:17 AM