Dear Friend and Partner,
The life-giving treasure and truth of Scripture has always been foundational to TBN and all of our global networks. It's the one absolute that threads its way through every program we produce and air.
That's why we're excited about The God of the Way, the new book from our good TBN friends, Kathie Lee Gifford and Rabbi Jason Sobel. This powerful sequel to their runaway New York Times bestseller, The Rock, the Road, and the Rabbi, takes us deeper into the historic and cultural contexts of Scripture, and the intricate connection between the land and people of Israel and the God who has used them to bring salvation and hope to all of humanity.
"In The God of the Way we're really seeking to give readers a '3-D view' of Scripture," Rabbi Jason explained. "It's not just Bible information. It's about the life-transforming revelation that is available throughout God's Word to those who will take the time to seek it out."
He added that as believers "we have a royal identity as sons and daughters of the King, and part of operating in that royal identity is to seek out a deeper understanding of His Word. God is in the details, so that is where we want to find Him, and when we do, we find His Word coming alive and bringing change in and through us."
"...Our heart's desire ... is to build an eternal legacy of souls saved and lives transformed by the love of Jesus." — Matt Crouch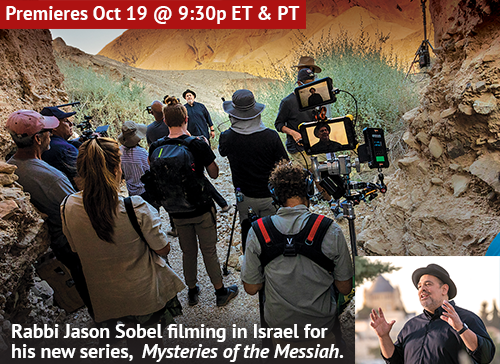 Wow! I was struck by how closely Rabbi Jason's words parallel our own vision here at TBN for creating a new generation of life-transforming content that goes further and deeper — that pushes the envelope to engage hearts with the truth of God's Word in innovative ways.
As you page through this edition of our Behind the Scenes at TBN quarterly report, you'll get a glimpse at the latest of this "TBN 2.0" content that is impacting millions for Christ every week across the earth.
As you do, we believe you'll be personally inspired to go deeper into all that God has for you — and to invite friends and family to join you. That's what your TBN is all about!
It's also why we're now engaged in major studio expansions across the earth, and right here in the U.S. It's because our heart's desire at TBN — one I know we share with you — is to build an eternal legacy of souls saved and lives transformed by the love of Jesus.
Thank you, dear friend, for your support. Never forget that your partnership is key to the hearts and lives that are changed through the global broadcast outreach of TBN.
Matt and Laurie