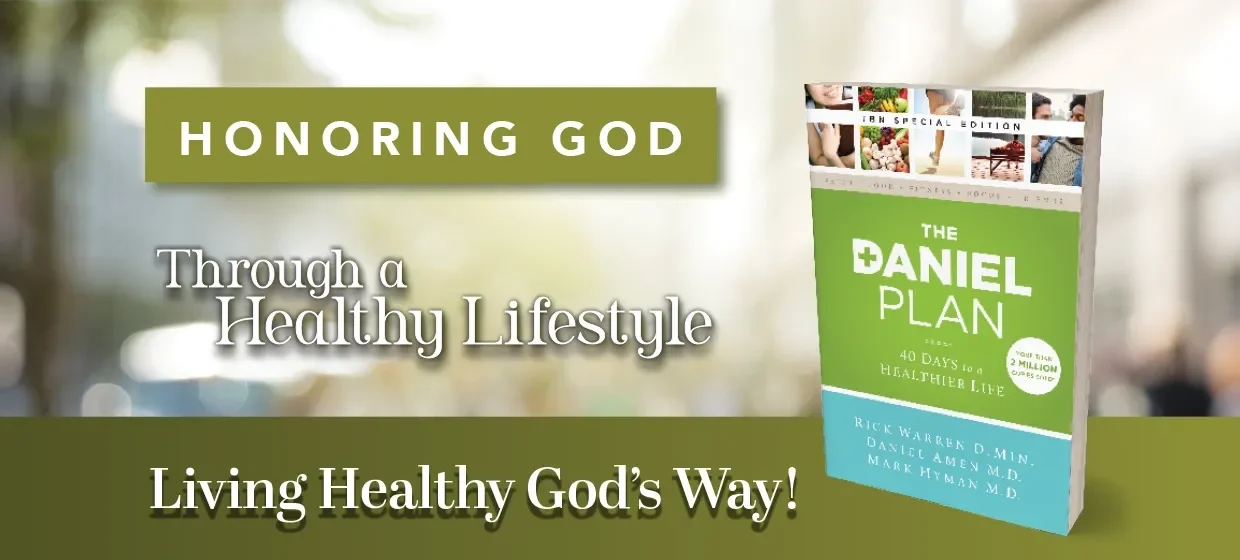 Scripture is clear that living a healthy lifestyle that honors God and maximizes our capacity to fulfill our destiny in Him is important to our worship. In Romans 12:1 we are exhorted to present our bodies as "a living sacrifice, holy, acceptable unto God." First Corinthians 6:19-20 tells us that through Christ our bodies become the "temple of the Holy Spirit." And Ephesians 2:10 emphasizes that we are God's "workmanship, created in Christ Jesus for good works...."
While these passages should help guide believers in how they walk out their faith in things like nutrition, diet, and exercise, far too many Christians fall short in such areas as eating well, getting enough exercise, and maintaining an overall healthy lifestyle.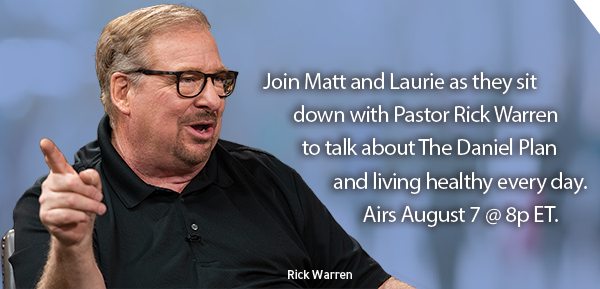 In his bestselling book The Daniel Plan: 40 Days to a Healthier Life, our good friend Pastor Rick Warren writes that when he realized he had fallen into some bad health habits, he resolved to do something about it.
Standing one Sunday before his congregation at California's Saddleback Church, he confessed: "Friends, I've been a poor steward of my health and a terrible example for you … So today I am publicly repenting and I ask for your forgiveness. God expects us to take care of the bodies he has given us, but I have not done that …
Do any of you want to join me in getting healthy?"
As it turned out, more than 12,000 Saddleback Church members committed to join Pastor Rick in his quest to reclaim a healthy lifestyle. With the help of a team of medical doctors Pastor Rick came up with The Daniel Plan, a commonsense approach to getting healthy "with love as the motivation," explains Pastor Rick: "Experiencing God's unconditional love for you, learning to love Him back, [and] learning to love whom God made you to be...."
Wow! That sounds like a spot-on strategy for living a God-centered healthy lifestyle in body, soul, and spirit. And the success of the plan speaks for itself. In just the first year Pastor Rick and his congregation together shed more that 250,000 pounds, and through teamwork and community they established some great habits for a lifetime of healthy living that honors God.
Friend, through the generous support of individuals like you, this is the kind of vital hope and encouragement your TBN is bringing to viewers 24 hours a day. From worship and praise, dynamic Bible teaching from respected Christian leaders, programs on the latest developments in nutrition and health, and so much more, your prayer and partnership with TBN make you a part of every program we produce and air.
We can never say it enough: Thank you for standing with TBN as we cover the earth with the message of God's hope and grace.
Matt and Laurie Crouch

INFO
Author
Published:
Aug 01, 2023 at 04:01 AM