Victorious Through Christ 1 John 5:4
Every month in these pages we have the joy of sharing how you're joining with us to reach and impact individuals, families, and entire communities with the message of hope and grace through Christ.
Of course, the number-one way we're doing that is to use television and engaging media to communicate the Good News of salvation through Jesus.
That's the mission my parents, TBN founders Paul and Jan Crouch, established nearly fifty years ago, and we've never strayed from that foundational goal. And we thank God for the miraculous impact and growth we're witnessing. Today on every inhabited continent TBN is broadcasting this message of God's incomparable love to untold millions of hearts and homes. And every hour of every day individuals from all walks of life are finding salvation, healing, and hope through TBN.
But there's more! One of the most exciting parts of TBN's global impact is the opportunity we have each day to help the millions of individuals and families who tune in to one of our thirty global networks to understand and embrace the authority they have as believers, and to walk in victory through every circumstance of life. Personally for Laurie and me, there is nothing we cherish more than encouraging viewers that they can live as overcomers through the finished work of Christ.
In fact, I believe that there is no message more important for Christ followers to hear in this hour of history. Across America and in many parts of the world where TBN airs twenty-four hours a day, people are facing real trials and hardships.
From needs related to jobs, finances, health, and simple daily living, to out-and-out persecution for their faith, increasing numbers of Christians are facing great difficulty. And through the prayer and partnership of individuals just like you, we are able to provide programming that teaches and encourages TBN viewers to walk victoriously in their life-journey with Christ.
... there is nothing we cherish more than encouraging viewers that they can live as overcomers through the finished work of Christ. — Matt Crouch
Perhaps you're one who has been personally touched by that message. Its foundation is found in John 16: 33, where Jesus tells us: "In this world you will have tribulation."
That includes all of the day-to-day trials and difficulties each of us face, along with those circumstances that threaten to overwhelm us. Into each situation Jesus comes with this promise: "... be of good cheer, I have overcome the world."
Those five words of Christ, addressed directly to us — "I have overcome the world" — are all we need to know to live as overcomers in a world that often seems in opposition to our best efforts.
Jesus lived, suffered, died, and rose again victorious over sin, suffering, sickness, poverty, and death. And because of that He has made us victorious as well, with all the identity and authority as children of God to live every day as overcomers.
Here at TBN we are thrilled to offer a broadcast day filled with pastors and teachers who keep this theme front and center for our viewers. And no one communicates the message of hope and victory through Christ with more passion than our good friend and ministry partner Pastor Joel Osteen. Recently Laurie and I sat down with Pastor Joel to talk about his powerful new book, You Are Stronger Than You Think, that really emphasizes the truth of our position as overcomers through Christ.
Regardless of your past, the opinions of others, or even your present circumstances or obstacles you are facing, through Christ, writes Pastor Joel, "you are a child of the Most High God. You have royal blood flowing through your veins. You've been crowned with favor. What's trying to stop you doesn't have a chance. God being for you is more than the world being against you."
Whether it's a dream you've held deep in your heart that seems too big to come true, a medical report that seems too final, or a mistake that should have stopped your destiny dead in its tracks — whatever circumstance you face, because of Jesus the answer is always the same, writes Pastor Joel: "You are no ordinary child. God handpicked you. Before you could choose Him, He chose you.... You are a history maker. You are a world changer. You are destined to leave your mark."
This is the heart of the invitation and clarion message we want everyone to receive who tunes in to one of our TBN networks or views our content on social media or elsewhere: If you are born again through faith in Jesus Christ, you are an overcomer (1 John 5:4).
Friend, it is because of your prayer and partnership that this life-changing message is reaching untold millions of individuals and families. From North and South America and across Europe, to Africa, the Middle East, Asia, and beyond, around the world right now — and twenty-four hours a day — someone is being touched for time and eternity because of the message of hope and grace they experience through TBN. Someone is saying yes to Jesus. Someone even now is taking his or her place as an overcomer and beginning a journey with Christ that could literally impact generations for God's Kingdom. And make no mistake: You are part of that miracle happening in lives everywhere!
Thank you for joining Laurie and me, along with TBN friends around the world, in this epic mission to reach the nations with God's love. Only eternity will reveal the fruit of the seeds you are sowing in prayer and partnership with TBN.
Our love and prayers for you,
Matt and Laurie Crouch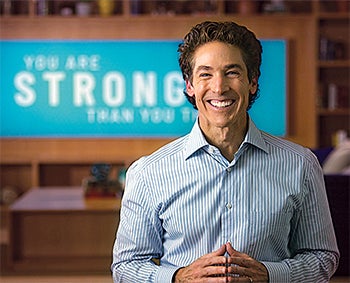 New Series With Pastor Joel Osteen
Don't miss Pastor Joel's new TBN teaching program You Are Stronger Than You Think. Based on his bestselling book, this eight-episode series will help you discover and embrace the victorious destiny God has planned just for you!
Premieres Monday, October 4th @ 9/8c and 9:30/8:30c
INFO
Author
Published:
Oct 01, 2021 at 04:17 AM