Donate
Through the Eyes of a Lion by Levi Lusko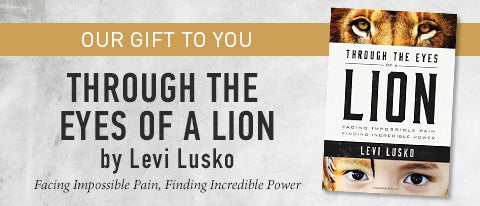 How to respond when the unthinkable happens…
This side of heaven, you are not promised a pain-free life. But, God wants to reveal to you the power of hope that causes you to overcome in a world filled with suffering and loss. Levi Lusko's book, Through the Eyes of a Lion, will show you Jesus' perspective of your life through His eyes—the eyes of a Lion. In it, he explores themes like:
Don't rely on the naked eye.
Run towards the roar.
Let God use your pain.
For your gift: TBN wants to bless you with Through the Eyes of a Lion to show how your life is destined for impact, regardless of the pain you have experienced. Remember, your support helps us continue to send the Gospel around the world and makes a great impact for Jesus.
Please use the form to submit your donation. Your copy will be sent to you soon. Thank you!
Donate now!
Your donation
Amount:
Type of Donation:
Ministry:
Ministry Resource:
Edit
Credit / Debit Card
Bank Account
Edit